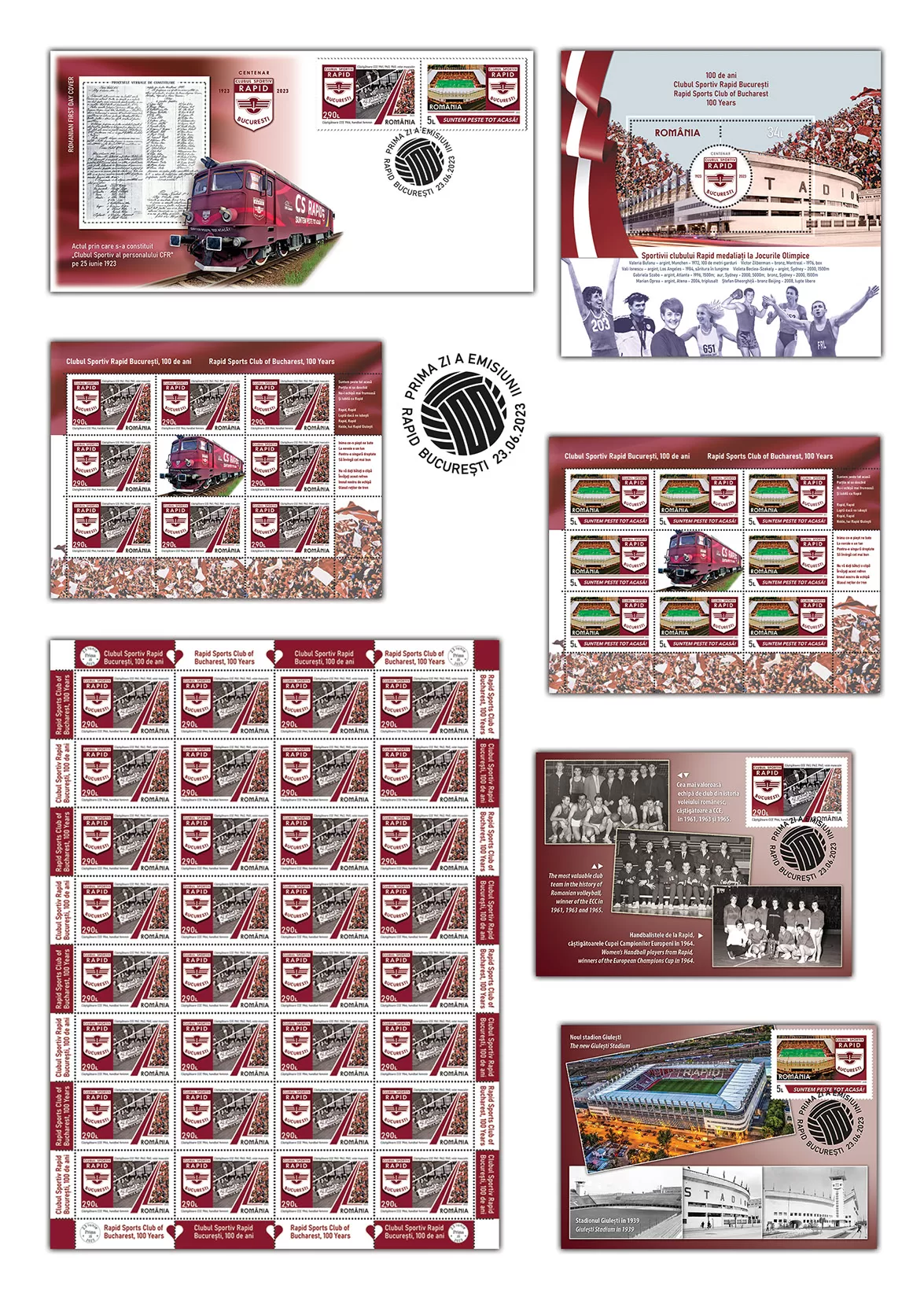 Romfilatelia welcomes sports lovers, by introducing into circulation, on Friday, June 23, this year, of the postage stamps issue Rapid Sports Club of Bucharest, 100 years.
The issue consists of 2 postage stamps, 1 perforated souvenir sheet and a First Day Cover.
The two postage stamps, with the face values of Lei 2.90 and Lei 5, have in their graphic composition an image of the "jewel" of the Club, the future football arena and respectively sequences of some sports events: a volleyball match, an enthusiastic "gallery" of winning a volleyball cup and a grandstand with spectators. The Club emblem, which includes the well-known CFR emblem, personalizes the overall images of the postage stamps.
The philatelic souvenir sheet, with a generously sized perforated stamp, having the face value of Lei 34, appears as an entrance to a football arena, where the architecture of the current stadium's facade is complemented (figuratively) with the architecture of the future modern football-king arena.
The Club emblem is bordered by a perforated outline, appearing as a ball.
The characters in the photo material represent record-breaking athletes in various disciplines, members of the Rapid Sports Club of Bucharest.
The First Day Cover, which displays the postage stamps of the issue, with a sports postmark having a symbolic drawing of a ball found, as is known, in football, handball, volleyball, basketball, has as a thematic illustration a locomotive, with visible elements (emblems and text) intended to present to the public the messages for the recognition of the Club's symbolism.
The new stadium, emblem of the rebirth of a symbol of soul, marks in a centenary year a still living history of a sports club with soul.
A sports club loved everywhere, everywhere at home!
Happy Anniversary, Rapid Bucharest!
Romfilatelia thanks the representatives of the Rapid Sports Club of Bucharest for the good collaboration within the anniversary philatelic project.
The philatelic issue will be available starting with Friday, June 23rd, 2023, in Romfilatelia's shops network in Bucharest, Bacău, Brașov, Cluj-Napoca, Iași and Timișoara and online on https://romfilatelia.ro/store/. 
For further information, please contact the Public Relations Office:
Tel: 021 / 336 93 92