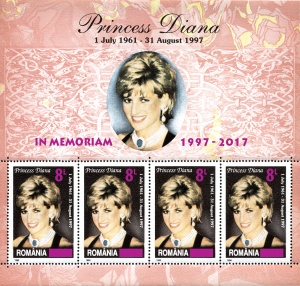 "Be good with anyone without expecting a reward,
and make sure one day someone will be the same with you."
Lady Diana
August 31 is the day when we remember in sadness the tragic disappearance of Princess Diana, called "The Princess of Hearts".
Romfilatelia commemorates on August 31, 2017, the tragic disappearance of Princess Diana through a postage stamp issue, which is an overprint of the Diana – Princess of Wales postage stamp issue of 1999.
Twenty years after the tragic accident that took place in the Paris tunnel where she lost her life, Lady Diana continues to be loved by Britons around the world. The memorial fountain dedicated to the "Princess of Hearts" in London is a place of pilgrimage where people bring flowers, souvenirs, to the memory of the most beloved British princess.
Diana Frances Spencer was born on July 1, 1961, in Sandringham, Norfolk and as a young girl, she was inclined towards music and dance, studied ballet and grew up wanting to become a ballerina. She was also passionate about swimming, diving, hockey, tennis and skiing.
On July 29, 1981, the Cathedral of St. Paul held the fairytale wedding between Lady Diana Spencer and Prince Charles, and so Diana Frances Spencer becomes Lady Diana, Princess of Wales.
Appearing from the early years after marriage as a representative of the Windsor House, she devoted herself to humanitarian action, especially for the benefit of children, especially those less fortunate.
The work in support of AIDS patients made her extremely popular. Other issues that attracted the princess's attention were: cancer, the needy, poverty, mental illness and drug abuse.
In 1989, Lady Diana inaugurated in London the "Landmark Aids Center", a center that provides help to HIV-infected patients. She later became the patron of the National AIDS Trust.
Over the years, she has coordinated several organizations and events, including Swansea's "Music and Art Festival", "The Royal School for the Blind and the British Deaf Association", "Help the Aged", "Malcolm Sargent" Fund for children with cancer, the "Red Cross Youth Organization", the "London Ballet" and the "Royal Academy of Music".
The tragic accident of August 31, 1997 has saddened and shocked the world. The day of the princess's disappearance, beyond tears and emotions, has remained one of the most disturbing moments of the 21st century.
The commemorative postage stamp issue is made up of a stamp with the face value of Lei 8, in a block of 8 stamps and illustrated border, which has magenta folio elements to create the overprint, and the First day cover.
Starting Thursday, August 31st 2017, the postage stamp issue Princess Diana, in memoriam, 20 years is available in the Romfilatelia store in Bucharest, Bacau, Brasov, Cluj-Napoca, Iasi Timisoara as well as in our online shop: https://romfilatelia.ro/store/
For further information, please contact the Public Relation Office:
Tel: 021 / 337 24 42