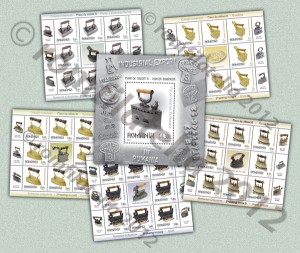 For a new postage stamps issue in 2012, Romfilatelia has chosen an original theme, more precisely, Pressing irons.
The postage stamps issue Pressing irons – Romanian collections will be composed of two parts, the second part will be introduced into circulation this autumn.
Used to press fabrics, the pressing iron, as any other tool, has been subjected to a continuous transformation.
Ever since the 1st century AD, inChinawere used metal vessels filled with charcoal to press fabrics.
InEurope, ever since the 17th century, they used heated cast iron plates of triangular shape, provided with a handle. Later on, there were carried out the pressing irons filled with charcoal.
InIndia, the hot coals were replaced by coconut shells having the same heating capacity.
Another type of pressing iron was the one in which they put pieces of hot metal instead of coals. The unpleasant part of these pressing irons was that not only the sole plate got heated, but also the handle, thus thick gloves had to be worn.
In the last years of the 19th century and at the beginning of the 20th century, they used ethanol, kerosene, whale oil or even petrol to heat the pressing irons.
The first remarkable improvements of the pressing iron were made in 1870 by Mary Florence Potts from theUnited States of America, who created the pressing iron with rounded edges at both ends, thus giving the possibility to iron both ways. In the next year, she also invented the pressing iron with a removable handle, so as to heat only the bottom part of the pressing iron without the handle.
In 1882, Henry W. Seely invented the electric pressing iron and in 1920 the pressing iron with thermostat was carried out.
Once with the emergence of this type of pressing iron, they have evolved and keep on evolving.
The postage stamps issue Pressing irons (I) – Romanian collections, which Romfilatelia introduces into circulation consists of five postage stamps and one perforated souvenir sheet illustrating pressing irons from Romania (19th and 20th centuries), Germany (18th century), Scotland (19th century), France (18th century) and the United States of America (19th century).
Issue date: 2012-02-17