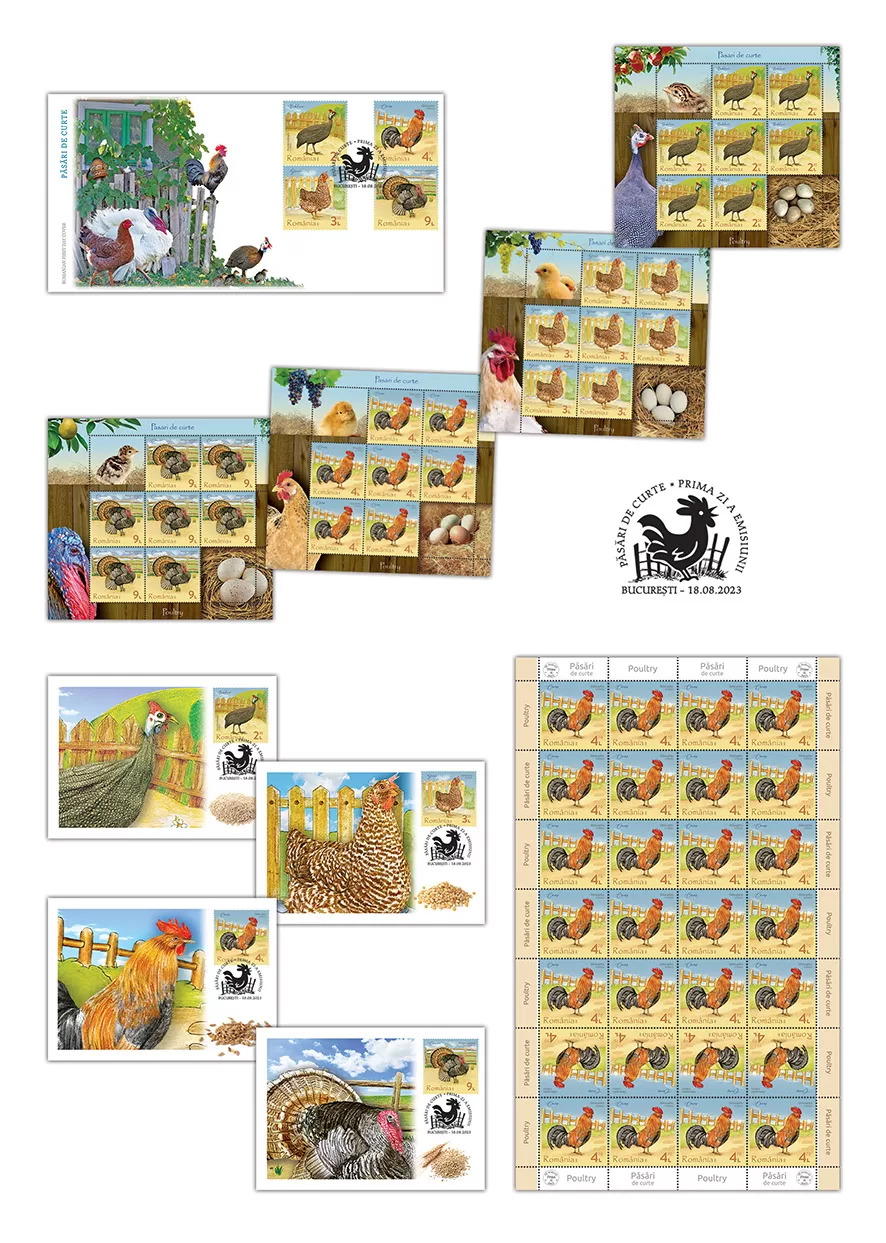 For collectors of postage stamps, any postage stamps issue, having the theme "Birds", gives an occasion of joy and interest.
Meeting the wishes of philatelists in the country and abroad, Romfilatelia introduces into circulation on Friday, August 18th, this year, the "Poultry" postage stamps issue, consisting of four stamps and a First Day Cover.
Poultry are the most numerous (by number of individuals) of all farm animals. They are an important source of food (meat and eggs) for the Earth's ever-increasing human population.
The species in the current issue are large, terrestrial, related birds belonging to the order Galiformes and the representative species of this order is the hen.
The helmeted guineafowl – Numida meleagris (in Romanian it is also called "piche" or "pichere"), depicted on the stamp with the face value of Lei 2.30, was domesticated in the lands of West Africa between 1300 and 5500 years ago.
The hen – Gallus gallus, illustrated on the stamp with the face value of Lei 3.10, is in fact the most common and best known of the domestic bird species. Chickens show a marked sexual dimorphism, i.e. the male – called a cock – and the female – called a hen – show visible, easily noticeable differences.
The cock – Gallus gallus, is depicted on the stamp with the face value of Lei 4.70. The hen and the cock are two species of polygamous birds (a male mates with several females).
The domestic turkey – Meleagris gallopavo, illustrated on the stamp with the face value of Lei 9, is much larger than the species living in the wild (about twice as large), because artificial selection has been directed towards obtaining as much meat as possible from one bird.
Romfilatelia thanks Senior Researcher Luis Ovidiu Popa, General Manager of the "Grigore Antipa" National Museum of Natural History, for the collaboration in the development of this issue of postage stamps.
 The philatelic issue will be available starting with Friday, August 18th, 2023, in Romfilatelia's shops network in Bucharest, Bacău, Brașov, Cluj-Napoca, Iași and Timișoara and online on https://romfilatelia.ro/store/. 
For further information, please contact the Public Relations Office:
Tel: 021 / 336 93 92