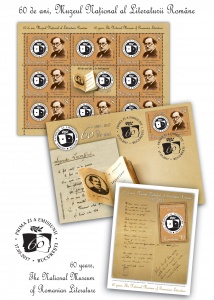 One of the outposts of contemporary creativity and also the depositor of the old and modern Romanian literature, the National Romanian Literature Museum is an institution, whose mission is to promote Romanian literature internally and internationally, its integration into the European cultural values through the preservation, development, research and valorization of heritage.
Romfilatelia celebrates the 60th anniversary of the establishment of the National Romanian Literature Museum by the philatelic issue under the same title, comprising of a stamp and a perforated souvenir sheet.
This anniversary issue, 60 years, the National Museum of Romanian Literature, is available starting on Wednesday, May 17th, 2017, in Romfilatelia shops from Bucharest, Bacau, Brasov, Cluj-Napoca, Iasi and Timisoara.
The National Museum of Romanian Literature has more than 300,000 pieces organized in 300 collections (15th – 20th centuries), including manuscripts of Romanian writers from chroniclers such as Varlaam, Dosoftei, to Ion Heliade Radulescu, Vasile Alecsandri, Mihai Eminescu, Ion Creanga, Lucian Blaga, I.L.Caragiale, Titu Maiorescu and many others.
The museum also holds valuable manuscripts by foreign writers: M. Proust, Th. Mann, Paul Valery, G. Papini, G. Ungaretti, etc. The collections are complemented by old and rare books, historical – literary documents, art (graphics, painting and sculpture), periodicals, memorial objects and furniture, photographs, audio – video recordings.
The issue's stamp, with the face value of Lei 8, is dedicated to the founder of the museum, Dumitru Panaitescu – Perpessicius, a poet with a very special tenure, but especially a first-rate literary historian.
In 1954 he received the State Prize for the elaboration of the critical edition of Mihai Eminescu's works. Our literary history has had the chance to find in Perpessicius the deeply analytical and passionate editor of the monumental edition of the Morning Star of the Romanian poetry.
On the stamp of the perforated souvenir sheet of the issue, with the face value of Lei 16 is presented the logo of the National Museum of Romanian Literature made by Mircia Dumitrescu, which, through the graphic approach, figuratively renders the symbolism of Romanian literature.
The special graphic of the souvenir sheet presents a page which showcases the handwriting of the great poet Mihai Eminescu and some stanzas from the poem To the Star, which is found in the Archive of the National Literary Museum and ranked in its Heritage.
The issue is completed by a first day cover and as page composition were used the sheet of 32 stamps and the minisheet of 8 stamps + 1 label.
Romfilatelia thanks the National Museum of Romanian Literature for the documentary support given for the creation of this postage stamp issue.
For further information, please contact the Public Relation Office:
Tel: 021 / 337 24 42