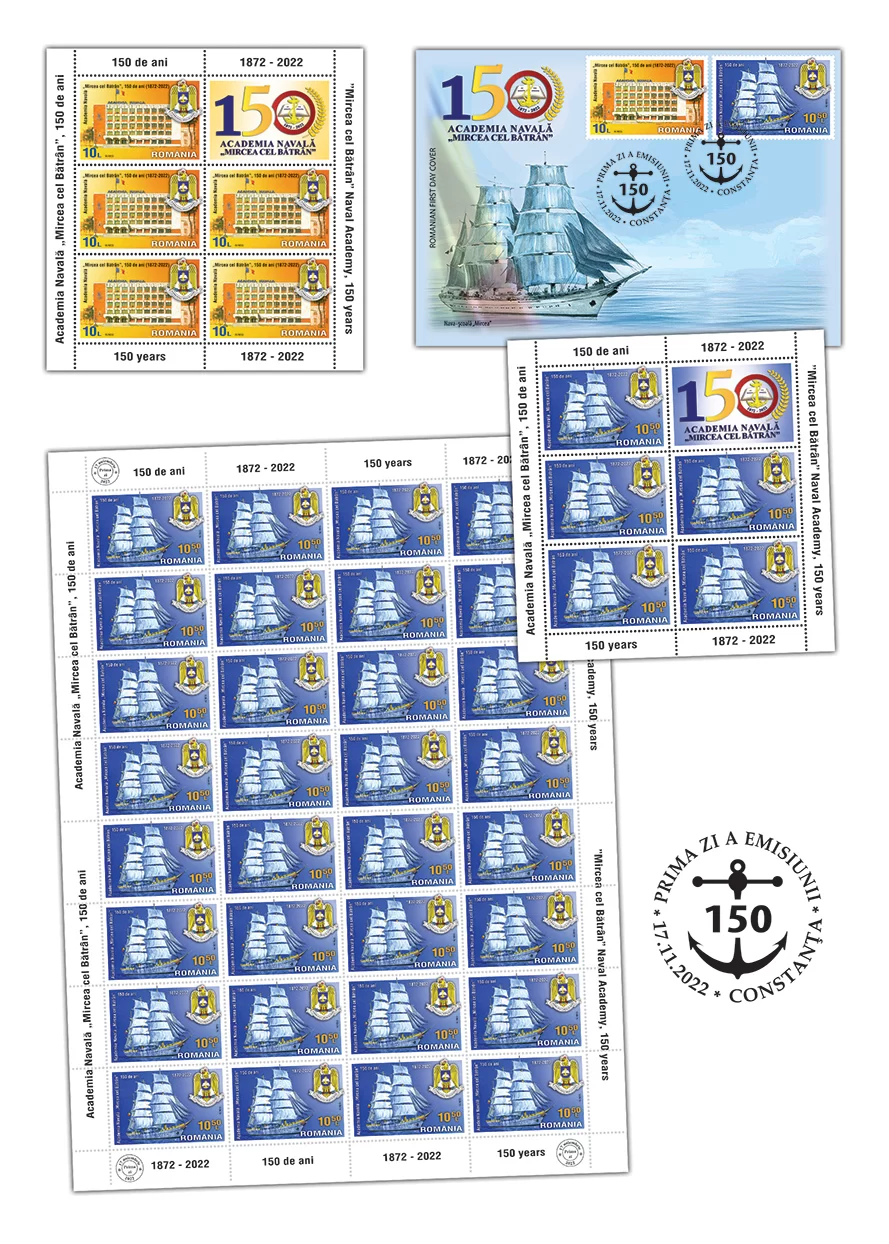 "Mircea cel Bătrân" Naval Academy is celebrating Romfilatelia joins the event and introduces into circulation on Thursday, November 17th this year, the postage stamps issue entitled "Mircea cel Bătrân" Naval Academy, 150 years, dedicated to an iconic institution of Romania, on its one and a half century anniversary.
The Romanian naval education came into being on November 17th, 1872, in Galați, with the foundation of a special school for non-commissioned officers and officers of the flotilla corps "Școala Flotilei", from 1901, it was moved to Constanța, next to the Major Division receiving, than, the name of ruler Mircea cel Bătrân "gatherer of Romanian lands" and "lord of as far as the Great Sea".
The flagship institution of Romanian naval education, the Academy provides training and continuous improvement of military and civilian specialists in the maritime field, to meet the specific needs of the Romanian Naval Forces or other beneficiaries of the national defence system, public order and national security, but also the socio-economic environment, at regional and international level.
The issue consists of two postage stamps and a First Day Cover.
On the postage stamp of the issue with a face value of Lei 10 the building of the Naval Academy, is depicted in a stylized manner, and on the second postage stamp, with a face value of Lei 10.50 and on the First Day Cover, the Training-ship "Mircea" is depicted in the same manner.
Training-ship "Mircea" is a sailing – ship, A-class, bark type, with three masts, 44 metres high, with 23 mainsails that sum up a total sail surface of 1750 square meters.
The philatelic issue will be available starting Thursday, 11st of November, in Romfilatelia's shops network in Bucharest, Bacau, Brasov, Cluj-Napoca, Iasi and Timisoara and online on https://romfilatelia.ro/store/.
For further information, please contact the Public Relation Office:
Tel: 021 / 336 93 92