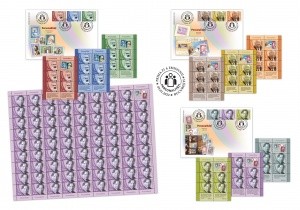 In order to release the first postage stamps of 2022, on January 5th, Romfilatelia developed a series of definitive stamps with the theme "Personalities", consisting of nine face values, on whose images are reproduced the portraits of the three Romanian personalities: Constantin Brâncuși, George Enescu and Henri Coandă. The famous diplomat and historian Neagu Djuvara stated in a comment for the album "Centenary Romanians": "Romania gave two great personalities to the world: George Enescu and Constantin Brâncuși". To this appreciation one should add the name of the great inventor Henri Coandă, the undisputed pioneer of the invention of flight, called by the great specialists in the field "the father of jet aviation".
The series, conceived in the "retro" tradition of Romanian philately, reproduces each portrait in three different chromatic shades, offering collectors a unique collector's item. The mini sheets with vignettes and the tabs with appreciative defining texts (in Romanian and English), are also constituted as collectible pieces with special value.
We invite you to the wonderful world of Romanian stamps in a time travel with shows dedicated to the three personalities: Constantin Brâncuși, George Enescu and Henri Coandă since 1956 until now.
The postage stamps issue  will be completed with nine mini-sheets and three "First Day" Cover and it will be available on Wednesday, 05th of January 2022, in Romfilatelia's shops network in Bucharest, Bacau, Brasov, Cluj-Napoca, Iasi and Timisoara and online on https://romfilatelia.ro/store/.
For further information, please contact the Public Relation Office:
Tel: 021 / 336 93 92