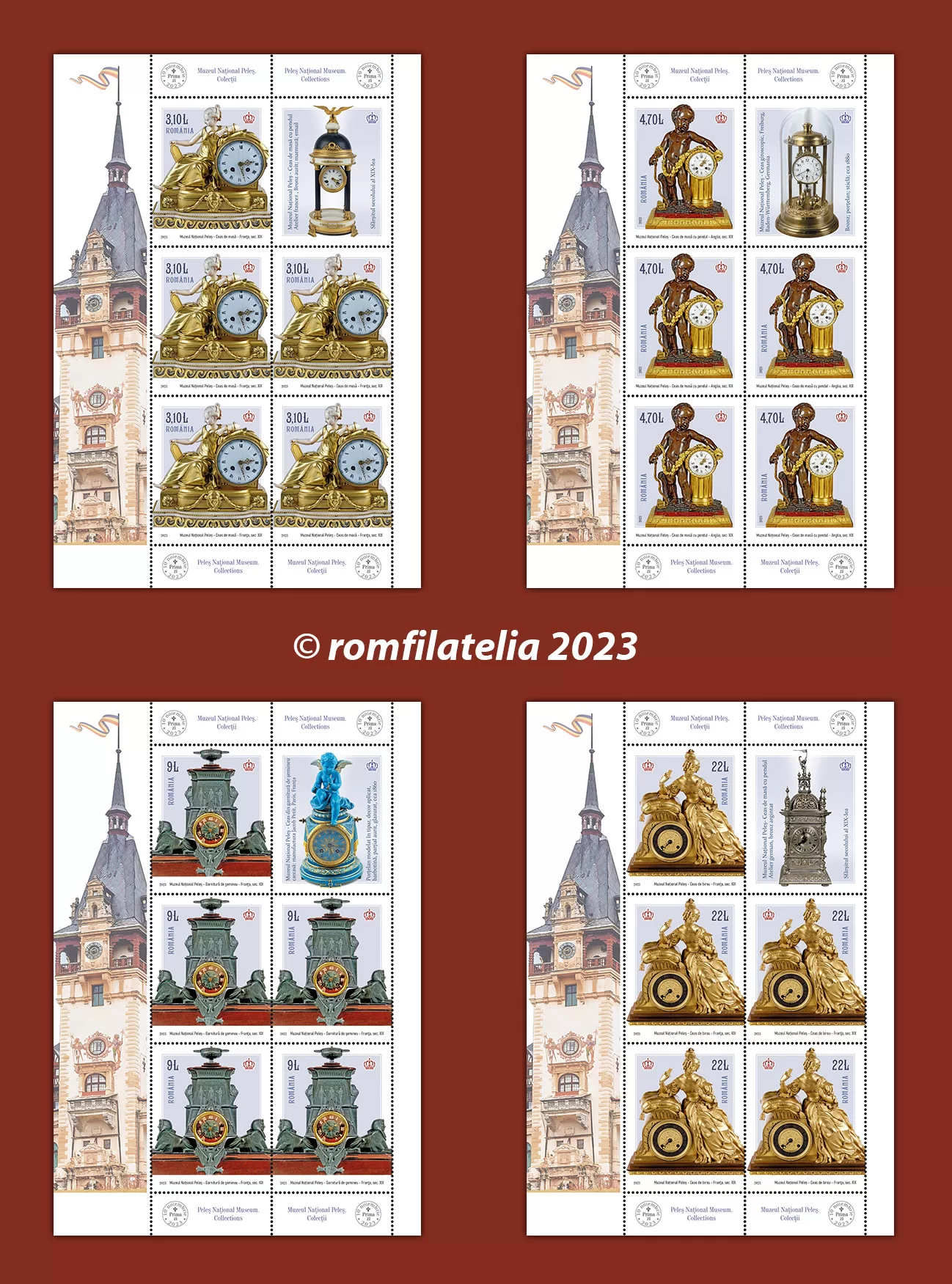 Romfilatelia dedicates a new philatelic project to the rich museum patrimony of Romania, introducing into circulation, on Friday, 10th of November 2023, the issue of postage stamps Peleș National Museum. Collections, consisting of 4 stamps, 2 First Day Covers and a set of 4 maxicards for the enthusiasts of maximaphily.
The four stamps of the issue illustrate representative pieces, of great aesthetic value, in the collections of the Peleș National Museum.
The clock collection of the Peleș National Museum consists of more than fifty pieces, varied in typology, covering a wide range of models, from pendulum clocks – floor or wall clocks – to cartel clocks,
console, fireplace and table clocks, alarm clocks and pocket-size clocks.
The pendulum table clock on the desk of King Carol I's study was made in Germany at the end of the 19th century.
Although faithful to the German tradition, under which he placed the entire architectural and decorative design of the summer residence at Sinaia, King Carol I approached, in terms of clockmaking, the "noble" production of the time, the "Court" pieces, more precisely, those typologies inspired by the recurrence of historicist designs.
Within the collection, an important segment is represented by ten French clocks, varied in material, with elegant cases in various styles. One of them is the gilt bronze and marble table clock, with the clockmaker's mark and the inscription "Samuel Marti. Medaille d'or. Paris. 1900" (the stamp with the face value of Lei 3.10).
A pendulum table clock in the collection, known as the "putto" because of the bronze statuary figure, combines refined golden bronze with marble and enamel. It dates from the late 19th century and was made in an English workshop in London (the stamp with the face value of Lei 4.70).
The Peleș National Museum has an interesting fireplace mantelpiece in its clockmaking heritage, unique in its stylistic approach, the work of the Commun & Manceau workshop in Paris, specialising in mechanisms for fireplace mantelpieces with historicist casings. Inspired by the retour d'Egypte style, the clock in common metal and black marble base has a pyramidal body, supported by two adjoining sphinxes, and is decorated with deities, sacred animals and Egyptian hieroglyphs (the stamp with the face value of Lei 9).
The French gilt bronze clock from the boudoir of Queen Elisabeta is an elegant piece with a circular dial, on which rests her right hand, gracefully holding a rowan, the female character dressed in costume from the Louis-Philippe era (1830-1848) (the stamp with the face value of Lei 22).
Romfilatelia thanks the manager Narcis-Dorin Ion and the documentation team of the Peleș National Museum for the support provided for the development of this issue of postage stamps.