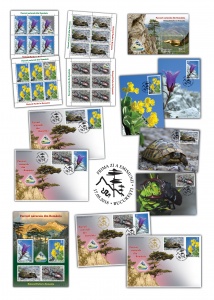 Romfilatelia, a permanent promoter of philatelic themes that have as subject the undoubted beauties of Romania, introduces into circulation the postage stamp issue Natural Parks in Romania, this time stopping in Domogled – Cerna Valley Natural Park, the largest national park.
On the stamps of the issue copies of the flora and fauna of the park are reproduced. Edraianthus graminifolius ssp. kitaibelii, a plant with blue-violet flowers, illustrates the stamp with the face value of Lei 1.60. On the stamp with the face value of Lei 2 is reproduced Primula auricula ssp. serratifolia, popularly known as Bear's Ear. Testudo hermanni, or Banat's Tortoise, illustrates the stamp with the face value of Lei 5. Stag beetle, scientifically named Lucanus cervus, is reproduced on the stamp with the face value of Lei 19. On the perforated souvenir sheet of the issue, with the face value of Lei 28.50, is represented Zamenis longissimus, also called Esculap's Snake, which, wrapped on a staff, is the symbol of Medicine.
Protected area of national interest, Domogled – Cerna Valley National Park, with an surface of over 60,000 ha, is located in the southwestern part of Romania, on the territory of Caras-Severin, Mehedinti and Gorj Counties. Within its territory, a number of 11 wildlife reserves differentiate, among which: Domogled Reservation, Corcoaia Gorges, Stan's Peak, Coronini-Bedina etc.
Edraianthus graminifolius ssp. kitaibelii is a xero-mesophilic species, which grows as a perennial herbaceous plant. The plants are low and their stems can range from 1 cm to 20 cm. The leaves are alternately arranged on the stem, and the lower ones are mainly petiolate. The flowers, blue-violet, are individually grouped, bell-shaped and hermaphrodite. Because of the limited area where it can be found, this species is protected.
Primula auricula ssp. serratifolia, also called Banat's Cowslip Primrose, or Bear's Ear, is among the species with the highest phytogeographical value in the family of Primulaceae, representing a jeopardized endemic taxon. It usually blossoms from April to the end of May. It is a perennial species that grows up to 20 cm tall. Yellow flowers grow in clusters on 5-20 cm long stems. The specific auricle epithet means "ear-shaped" and refers to the shape of the leaves.
Testudo hermanni, or Banat's Tortoise, is part of the Testudinae family and is characterized by a 12-24 cm shell, which is cambered, yellowish-brown with dark spots. A dry turtle can easily reach at maturity 25-30 cm in diameter and 2-3 kg in weight. Under optimal living conditions, they can live even over 75 years.
Lucanus cervus, known as Stag beetle, is a beetle from the Lucanidae family. Stag beetle is one of the biggest and most remarkable cockroaches in Europe. Characteristic are the large and reddened mandibles of the male, which resemble the deer's horns and can move like a pliers. In large specimens, the length of the horns can reach almost half the total length of the beetle, which is 25-75 mm. Stag beetle can fly.
Zamenis longissimus, or Esculap's Snake, is a non-poisonous snake of the Colubridae family. It is a large snake with a length of up to 2 m. It has a slender appearance, small and narrow head, long and thin tail. The back is brown with many scales, long-striped with white. When caught, it quickly rage stoops in a fury and bites, henceforth also being called in some areas the "bad snake".
The new issue will be available on Friday, August 17th, 2018, in Romfilatelia' own shops network in Bucharest, Bacau, Brașov, Cluj-Napoca, Iași and Timișoara and online on https://romfilatelia.ro/store/. The postage stamp issue is completed by a set of two First Day Cover and the set of four maxicards, as page composition there were used a sheet of 32 stamps, a minisheet of 5 stamps + 1 label, an perforated souvenir sheet and block of 4 stamps
The philatelic album is created into a limited edition of 245 pieces and is equipped with the special block of the issue (containing four perforated stamps with illustrated border), as well as the First Day Cover with "first day" postmark cleary imprinted, with foiling, both products being numbered from 001 to 245.
For further information, please contact the Public Relation Office:
Tel: 021 / 337 24 42