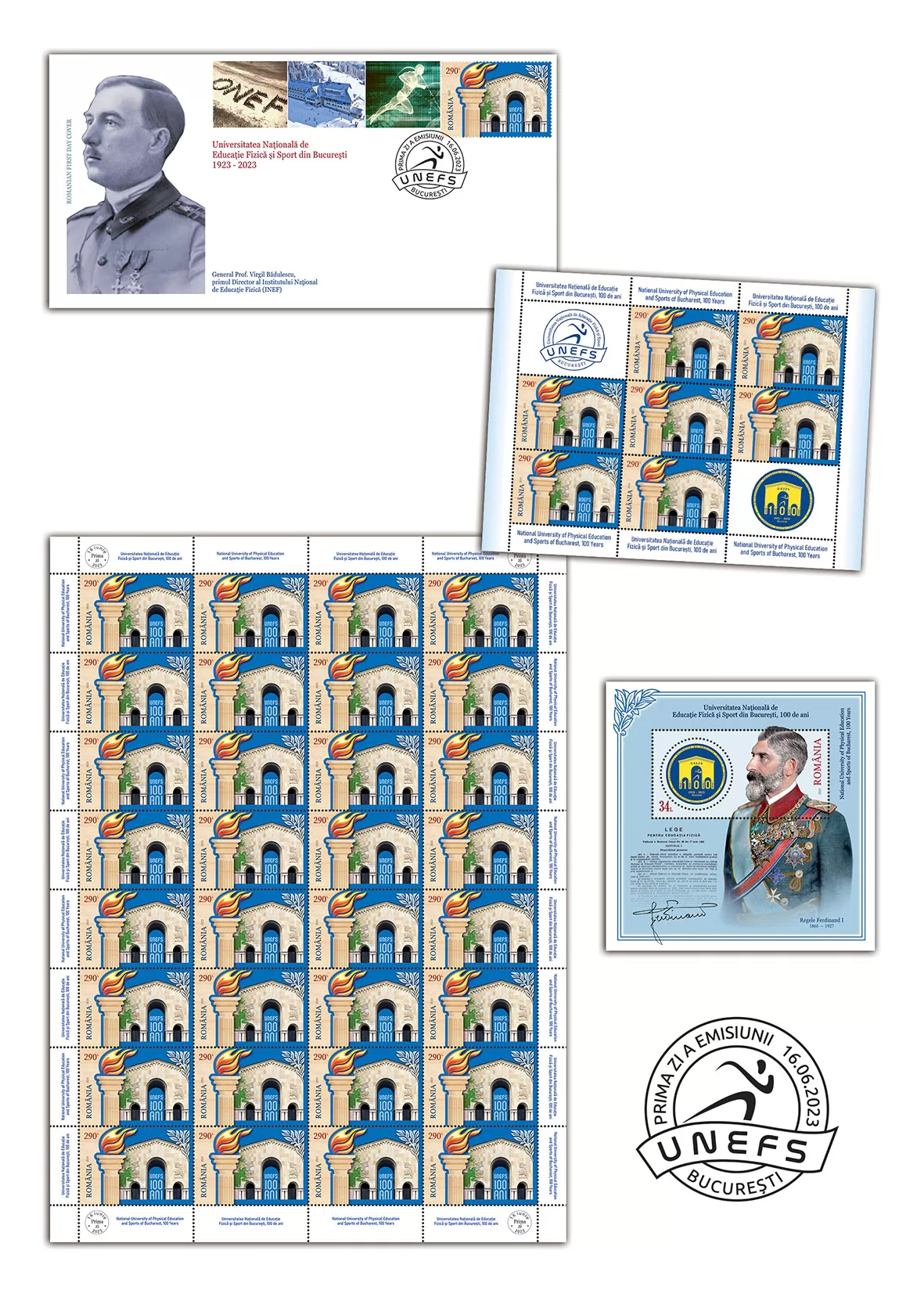 To pay tribute to a landmark educational institution for Romanian sports, Romfilatelia introduces into circulation on Friday, June 16, 2023, the postage stamps issue National University of Physical Education and Sports of Bucharest, 100 years, consisting of a stamp and a perforated souvenir sheet.
On the stamp of the issue with the face value of Lei 2.90, are depicted graphic elements that reproduce the monumental gate of the University, the laurels of the victors and the flame that symbolizes knowledge.
In the graphic composition of the perforated souvenir sheet having the stamp with the face value of Lei 34, the bust of King Ferdinand I, the signatory of the Law on Physical Education, is illustrated, alongside a facsimile of the text of the Law. The UNEFS anniversary logo is reproduced in the perforation of the stamp of the souvenir sheet.
On the image of the First Day Cover of the issue, the portrait of General Prof. Virgil Bădulescu, First Director of the National Institute of Physical Education (INEF) is reproduced, and the stamp is associated with the upper part of the envelope, images of UNEFS locations – ONEF-Beach, Cabin in Parâng, winter and the silhouette of a runner on a sine wave background, rendering the dynamics.
Happy Anniversary!
Vivat, crescat, floreat!
Romfilatelia thanks the representatives of the National University of Physical Education and Sports of Bucharest for the documentary and photographic support granted to the creation of this issue of postage stamps.
The philatelic issue will be available starting with Friday, June 16th, 2023, in Romfilatelia's shops network in Bucharest, Bacău, Brașov, Cluj-Napoca, Iași and Timișoara and online on https://romfilatelia.ro/store/. 
For further information, please contact the Public Relations Office:
Tel: 021 / 336 93 92