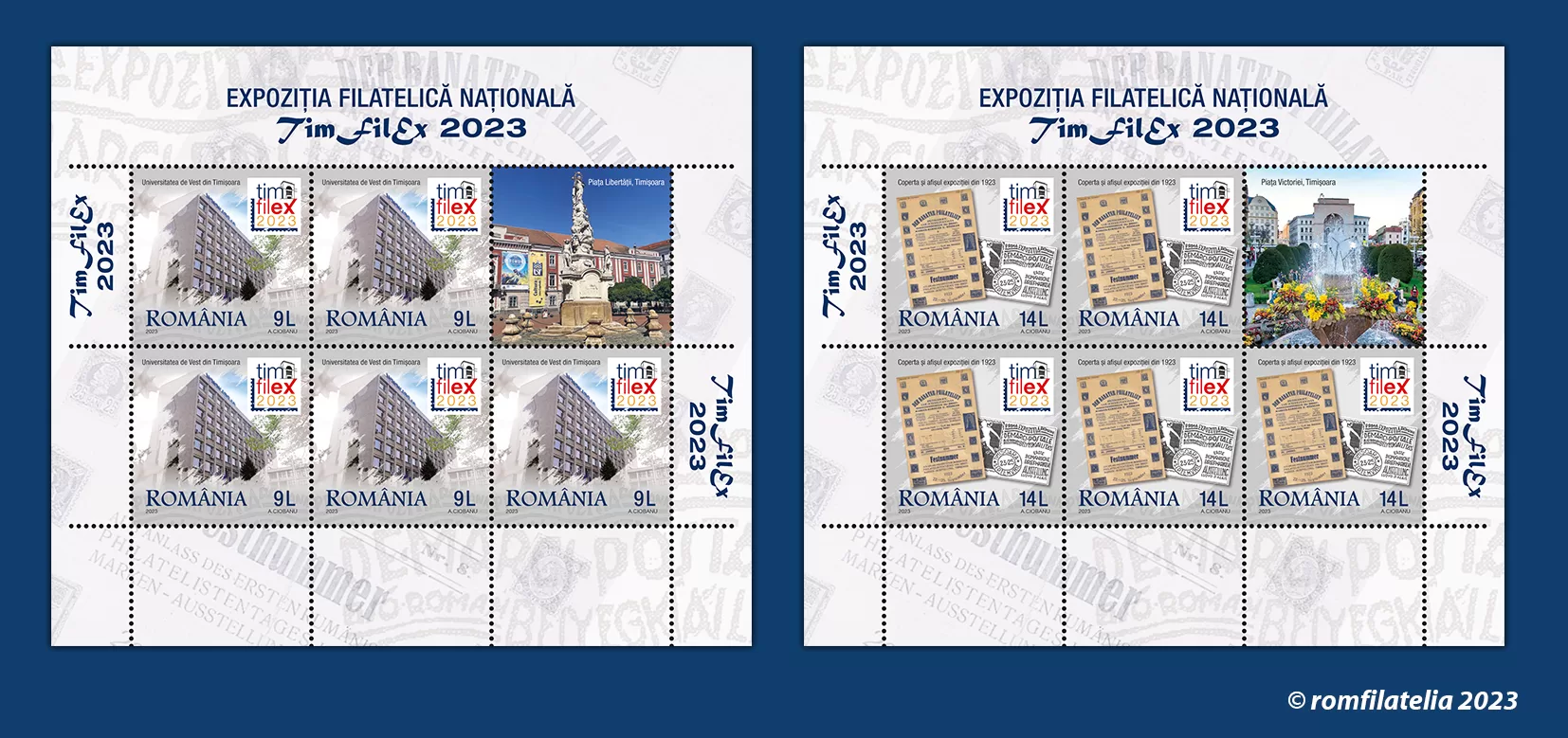 Romfilatelia introduces into circulation the issue of postage stamps entitled National Stamp Exhibition TimFilEx 2023. The event marks a century since the first Romanian philatelic exhibition and since the first congress of Romanian philatelists, organized in Timișoara between September 22nd and 25th, 1923. The TimFilEx 2023 Exhibition will take place between September 21-24 this year.
The issue, consisting of 2 postage stamps, 1 perforated souvenir sheet and a First Day Cover, will enter into circulation on Thursday, September 21st, this year, the opening date of the National Exhibition, with international participation, hosted by the West University of Timișoara.
TimFilEx 2023 is organized by the Timișoara Philatelic Association under the patronage of the Romanian Philatelic Federation and with the recognition of the Federation of European Philatelic Associations (FEPA), the West University of Timișoara and is guided by the current International Philatelic Federation (FIP) Regulations.
The first postage stamp, with the face value of Lei 9, depicts a detail of the West University building, associated with the Exhibition logo.
The West University of Timișoara was established by royal decree at the end of 1944, following the initiatives of the intellectuals of Timișoara, which were materialized in a Memorandum addressed to the Government and asserting the need to establish a University in Timișoara.
At the present time the University has 11 faculties, offering 75 Bachelor's degree programmes, over 90 Master's degree programmes in 34 areas of undergraduate academic studies.
The hall of the University head office, build, starting in 1962, under the direction of the architect Hans Fackelmann, has become in the last years the favourite venue for the main philatelic happenings in Timișoara.
The second postage stamp, with the face value of Lei 14, features the 1923 exhibition poster and the cover of the Timisoara philatelic magazine "Der Banater Philatelist", no. 8/ 1923.
The perforated souvenir sheet of the issue, having the stamp with the face value of Lei 34, depicts the Old Town Hall in Liberty Square. Built in Baroque style between 1731 and 1734, after liberation from Turkish rule by Eugene of Savoy, the Old Town Hall housed the local administration until after the World War II. By 1923, the Chamber of Commerce and the Town Hall were a real and constant support of the philatelic movement in Timișoara. The center of Liberty Square (Parade Square, Prince Eugen Square) it is guarded by the statue of Saint Mary and Saint Nepomuk, the work of the Viennese sculptors Blim and Wasserburger in 1756.
WE ARE WAITING FOR YOU AT THE PHILATELIC EXHIBITION TIMFILEX 2023, FOR PHILATELIC NEWS AND SURPRISES!
Romfilatelia thanks Mr. Marius Muntean, President of the Timișoara Philatelic Association, for the documentary support granted to the development of this postage stamps issue.