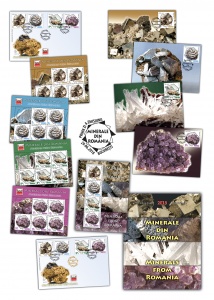 Romfilatelia returns with a theme appreciated by collectors, by launching the postage stamp issue Minerals from Romania, highlighting, once again, unique exhibits from the heritage of the "Victor Gorduza" County Museum of Mineralogy in Baia Mare.
The new issue will be available on Friday, June 29th, 2018, in Romfilatelia' own shops network in Bucharest, Bacau, Brașov, Cluj-Napoca, Iași and Timișoara and online on https://romfilatelia.ro/store/.
The four stamps of the issue illustrate minerals from the collection of this museum, as follows:
The sample of pyrite and quartz minerals, originating from Tibles area, is represented on the stamp with the face value of lei 2.
The sample of galena and semseyite minerals, extracted from Herja Mine is reproduced on the stamp with face value of lei 5.
The stamp with the face value of lei 8.50 shows a sample from Cavnic Mine, with gypsum and calcite minerals.
Originated from Herja Mine, the sample of quartz and calcite minerals is illustrated on the stamp with the face value of lei 12.
The "Victor Gorduza" County Museum of Mineralogy in Baia Mare, considered by experts to be the largest regional mineralogical museum in Europe, has a collection of over 20,000 pieces, of which about 17,000 are mineral samples. Of these, more than 1,000 mineral samples, ores, rocks and fossils, collected exclusively from the outcrops and underground mines that operated in Baia Mare and the adjacent areas of Maramures and northwestern Romania – many of them being unique or world rarities – can be seen in the permanent exhibition.
 The postage stamp issue is completed by a First Day Cover, as page composition there were used a sheet of 28 stamps, a minisheet of 5 stamps + 1 label and a block of 4 stamps.
 The philatelic album is created into a limited edition of 245 pieces and is equipped with the block of the issue (containing four perforated stamps with illustrated border) as well as the First Day Cover with "first day" postmark cleary imprinted, with foiling, both products being numbered, from 001 to 245.
For further information, please contact the Public Relation Office:
Tel: 021 / 337 24 42
roxana.herascu@romfilatelia.ro