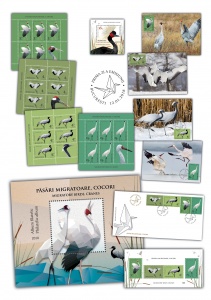 This year, Romfilatelia invites you to continue enjoying the philatelic issues featuring Fauna, a theme loved by both collectors and the general public, regardless of age or occupation. The first representatives of fauna are the Cranes, surnamed the winged announcers of spring, some of the most beautiful migratory birds.
Romfilatelia introduces into circulation the Migratory birds, Cranes issue on Friday, January 12th 2018, in its own shops from Bucureşti, Bacău, Braşov, Cluj-Napoca, Iaşi and Timişoara and online on https://romfilatelia.ro/store/.
Cranes are renowned for their graceful posture and fascinating movements, looking like ballet dancing. Their beautiful mating dance also help them to socialize, and is accompanied by loud, trumpeting calls and by jumps.
On the stamp with the face value of Lei 3.50 is illustrated the Australian Crane (Antigone rubicunda), also known as Brolga. It lives in Australia. In the Northern regions of the Australian continent live more than 100,000 specimens, while the Southern populations are endangered. This crane does not migrate, but it travels towards the center of the continent, in search for the most convenient habitats.
The stamp with the face value of Lei 4 depicts the Japanese Crane (Grus japonensis), also known as the Manchurian Crane. This is the second rarest crane species and it is also endangered, with a population estimated at no more than 2,200 individuals. It is one of the most delicate and beautiful cranes. Its remarkable courtship dancing is a true show, while its long-life commitment to a single partner is impressive.
The Small Crane (Anthropoides virgo), also known as the Demoiselle Crane, is depicted on the stamp with the face value of Lei 4.50. It breeds in large regions of Central Asia, Eastern Europe, while some smaller populations can be also found in India and East-Central Africa.
On the stamp with the face value of Lei 15 is illustrated the Siberian Crane (Leucogeranus leucogeranus), also known as the White Crane. This crane undertakes one of the longest migratory routes and is a critically endangered species.
The stamp of the perforated souvenir sheet has the face value of Lei 16, and illustrates the Black Crowned Crane (Balearica pavonina), one of the most beautiful and magnificent birds in the world. 
The postage stamp issue is completed by a First Day Cover and a set of maxicards, as page composition there were used a sheet of 32 stamps, a minisheet of 5 stamps + 1 label, a block of 4 stamps and a souvenir sheet.
The philatelic album is created into a limited edition of 256 pieces and is equipped with the block of the issue (containing four perforated stamps with illustrated border), as well as the First Day Cover with "first day" postmark cleary imprinted, with foiling, both products being numbered from 001 to 256.
Romfilatelia thanks "Grigore Antipa" National Museum of Natural History from Bucharest for the documentary support given to this postage stamp issue and the photographer Daniel Petrescu.
For further information, please contact the Public Relation Office:
Tel: 021 / 337 24 42