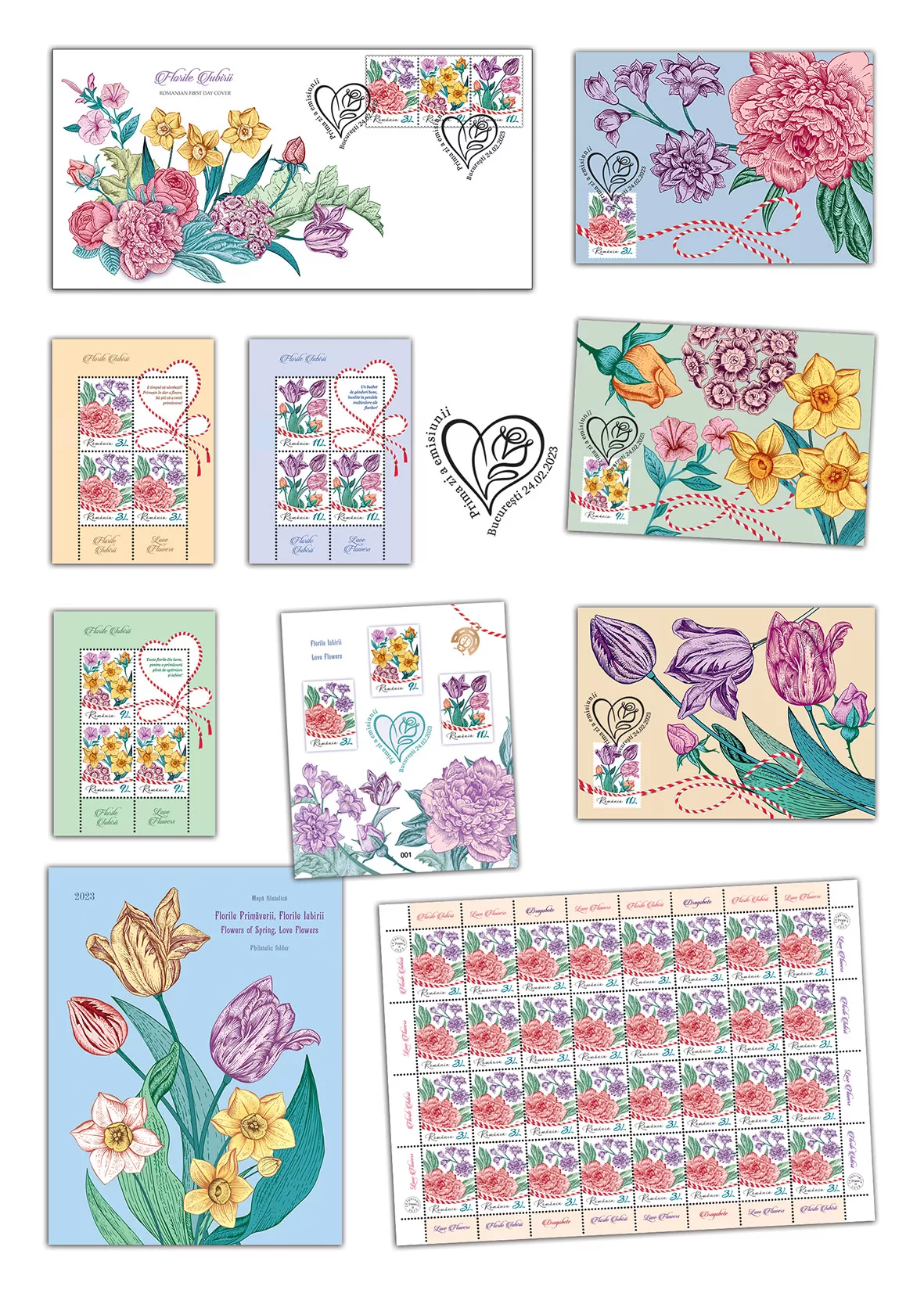 Dragobetele, the celebration of love in Romanian culture, comes with delicate spring flowers that Romfilatelia sends you on Friday, February 24th, in beautiful bouquets on stamps with the face values of Lei 3, Lei 9 and Lei 11, in a new philatelic issue entitled Love Flowers.
Tulips, daffodils, magnolias, peonies are waiting for you to discover them on the stamps of the issue, on the First Day Cover, minisheets and on the special philatelic folder in which you will find, in a beautiful graphic presentation, a Romanian trinket in gold foliling.  The pasionates of maximaphily will enjoy a set of maxicards.
A gift that reminds us of sunshine, of clear skies, of spring…. "Frost, snow, it's all gone,/Spring is coming!/You have sprouted proud flowers,/And through the dawn you can see cranes,/It's green below, it's clear above/Because it's warm and good", G. Coșbuc once warned us, because all the joy, all the light, all the exuberance of this season can be found in the fragrance of the flowers, in the tenderness of the rain, in the eternal dance of hearts in love. "Proud flowers have sprung up," but what flowers? Tulips? Or maybe apple blossoms?
But what about the daffodils so treasured by us all? Grown in the garden or placed in the flower vase, they spread their fragrance with lavish generosity, adding much-needed joy and charm to our lives. Given in bouquets, larger or smaller, engraved on various objects or carved in stone, applied on the stamps or sung by poets from ancient times to the present day, flowers fascinate us, overwhelming us with their fragrance, their shapes and colours, as if to give man a meeting with heaven and earth.
While "On the main street, / Tall flowers come out for a walk / In seasonal, light dresses, / Although it is such a changeable weather", Topârceanu assures us in his turn, with a discerning eye and with the thought of the other flowers that give charm to the days and seasons, the girls… Yes, spring has come on the high street of our soul…. The philatelic issue will be available starting Friday, February 24th, 2023, in Romfilatelia's shops network in Bucharest, Bacau, Brasov, Cluj-Napoca, Iasi and Timisoara and online on https://romfilatelia.ro/store/. 
For further information, please contact the Public Relation Office:
Tel: 021 / 336 93 92