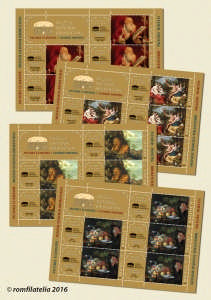 Only twenty years after the inauguration of the Paris Louvre Museum, in Sibiu took place, in 1817, the opening of the Brukenthal National Museum, the oldest in Romania and one of the oldest in Europe.
The museum, achieved through the will and testament of the former Governor of Transylvania (Samuel von Brukenthal – 1721-1803), became, for almost two centuries, the main attraction of those passing through Sibiu. The museum's picture gallery includes a valuable collection of European paintings, many of which belong to the Flemish Painting School.
On the stamps of the issue dedicated to this museum are portrayed four paintings belonging to the Flemish painters.
Saint Jerome in Scriptorium, portrayed on the stamp with the face value of lei 4.70, is an oil on wood done by painter Marinus Claeszoon van Reymerswaele, who lived in Flanders between 1490 and 1546. Patron of teachers, students and bureaucrats alike, Saint Jerome is presented while working on the transcription of the Bible in Latin and having a revelation; although the candle is spent, the painting is invaded by light, a fact which suggests the intention of blessing of man as his passing to the other life draws near.
Ceres, Bacchus and Venus, portrayed on the stamp with the face value of lei 5.00,was created by Abraham Janssens van Nuyssen (circa 1567-1632). He painted religious, allegorical and mythological themes, usually large size. His mythological themed work, Ceres, Bacchus and Venus, takes on the idea of life's joy. The character's pious attitude as well as the sculptural anatomies, the flat nuances and the juxtaposition of planes are evidences of the Caravagian style that Janssens adapted to the local mannerism.
Lion in front of the cave, oil on wood, portrayed on the stamp with the face value of lei 7.60, was created by Roelant Savery, a Flemish painter who lived between 1576 and 1639. His works depict landscapes inspired by the land of Tyrol, embellished with animals and plants, and mythological and biblical scenes in the background. Noteworthy are the still lifes with flowers and small animals.
Still life with fruits and parrot, illustrated on the stamp with the face value lei 9.10 is an oil on canvas painted by Jan Fyt (1611-1661). The painter, representative of the Bentvueghels group (a collective of Dutch painters active in Rome), remained famous for hunting scenes and still lifes with hunting, hunting weapons or fruit and luxury items, so prized by the aristocracy of the time.
We give our thanks to the National Brukenthal Museum in Sibiu for the support granted in the creation of this postage stamp issue.
Issue date: 2016-01-05