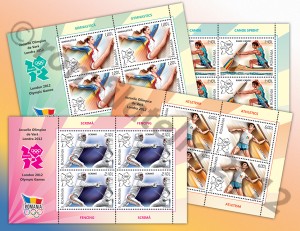 On the occasion of London 2012 Olympic Games, Romfilatelia introduces into circulation the postage stamps issue "London 2012 Olympic Games", a joyful moment for philatelists and sports fans.
At the 117th session of the International Olympic Committee held in July 2005 in Singapore, London was elected as the host city for the Games of the XXX Olympiad. It took four rounds of voting for London to overcome stiff competition from Paris, New York, Moscow and Madrid.
It is a first in modern Olympic history as London becomes the host of the Games of the Olympiad for the third time (1908, 1948, 2012). For 2012, the dates of the Games are from the 27th of July to the 12th of August.
The mascot of the Olympic Games is Wenlock. Its creation is based on a story of a drop of molten iron that is polished after hardening by a grandfather for his grandchildren. Wenlock was introduced to the public on 19 May 2010.
It is anticipated that about 10,000 athletes from more than 200 countries will participate at the Olympic Games.
Competitions will take place in 30 different venues, including Wembley Stadium and Arena and the O2 Arena.
Romania will participate in the 2012 Olympic Games with more than 100 athletes in 15 sports and disciplines from those registered in the Olympics programme (gymnastics, weightlifting, judo, table tennis, athletics, canoeing, canoe sprint, wrestling, fencing, boxing, tennis, shooting, water polo, cycling, swimming).
By harmoniously combining the connection between graphic beauty and nobleness of sports, the postage stamps of the issues (illustrating sports and disciplines such as gymnastics, canoe sprint, fencing and athletics) are intended to be an artistic representation of the essence and spirit of the Olympic Games as they are perceived by the sports fans from everywhere and at the same time by the emblem of the 2012 Olympic Games they wish to remind us of London, the host city of the Games.
Romfilatelia wishes good luck to the Romanian athletes!
We kindly thank the International Olympic Committee (IOC) and the Romanian Olympic and Sports Committee (COSR) for their support and the documentary assistance granted in the accomplishment of this postage stamps issue.
Issue date: 2012-07-27