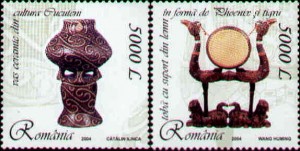 China is one of the oldest nations in the world, with a recorded history that dates back 5.000 years ago. The country was ruled by a series of dynasties that left their mark on its entire culture. China is the state with the biggest population in the world, representing one fifth of the world's population.
Judging by its surface, the country ranks third after Russia and Canada. China's ancient history has influenced fundamentally the cultural
development of the entire humanity. To promote mutual understanding and a long lasting friendship between the people of China and Romania, Romfilatelia, the specialized company in issuing and trading philatelic items in Romania, and China Post, decided to jointly issue a set of postage stamps entitled "Lacquer and ceramics" on
nd September 22 , 2004. The Drum of Phoenix and Tiger Shaped Wood Stand is a musical instrument dating from the Warring States Period. Heighting 150 cm the Drum was discovered in the Hubei Province. The Drum of Phoenix and Tiger Shaped Wood Stand was the instrument essential for emperors' parties and royal families in Chu State, representing the social status and eminence of its owner. It is, also, the most representative handicraft in the culture of Chu State. The colonnettes vessel from the Izvoare (Neamt County) commune is part of the Cucuteni culture, the last great culture in Europe that was named after the Romanian village where the first remains of this civilization were discovered. The Cucuteni civilization was based on agriculture, craft and copper-smelting. The Cucuteni culture, whose development lasted approximately one thousand years, was attested in the territory of Neamt county by a remarkable number of settlements (approx. 150). The archaeological diggings unearthed important museum collections of Eneolithic vestiges. The Cucuteni culture extended from Romania to the Southeast of Transylvania to Moldavia, in the Republic of Moldavia, and in the Ukraine up to the East of the Nipru. The characteristic of this culture is its ceramics, probably fashioned with the aid of a primitive potter's wheel, and painted in a particular manner. The decorations, at the beginning made up of incisions and grooves, later became monochromic then two-tone or tricolor:
black, white and red. For more than a millennium, the Cucuteni civilization remains one of the most important Eneolithic civilization in the old Europe.