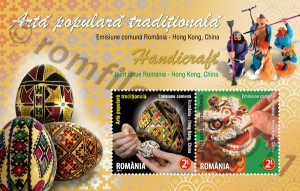 Assuming its role of national and international cultural values and traditions promoter, Romfilatelia introduces into circulation the joint stamp issue Romania – Hong Kong, China: Handicraft (Painted eggs and rice flour figurines).
Painted eggs
Kept from ancient times in the Romanian tradition – eggs painting represents a testimony of the continuation of the customs encountered in the Romanian regions and dedicated to the Holy Easter.
The visible symbols on the surface of the painted eggs (sun, moon, cross etc.), the images reproducing elements of nature (plants, animals), motifs of the folk art used for fabrics and carpets (the leaf, the ear, the sun) are carefully chosen and harmonized in order to turn the common egg into an art object.
Eggs are painted using either the colored wax method or the dyes. In another variant, the eggs' surface may be adorned with colored beads (glued in adhesive).
The white egg, emptied of its content, is covered in wax on the areas that will finally remain white. It is sank in the selected paint (the brightest colour), taken out and after drying, wax is applied again on the spots that are not supposed to get the next paint. The procedure is repeated, ending with the darkest colour.
According to a legend, red eggs symbolize the blood of Our Lord's supreme sacrifice. The eggs, beautifully ornamented or painted, express the joy for Christ's Resurrection, the optimism and hope of nature's rebirth in the spring of the Holy Easter.
Rice flour figurines
The rice flour figurines belong to an old highly appreciated Chinese trade, dating back to the period of Tang Dynasty (6th-10thcenturies A.D.). During this dynasty, the Chinese culture thrived, the greatest poets of this country and numerous painting schools emerging in this period. At the same time, the Chinese traditional art developed rapidly all over the region.
With special skill and talent, the Chinese craftsmen revive from dough the image of the legendary heroes or dragons, by colouring them in hues that make them look like real-life characters.
A comb, a pair of small scissors, several bamboo splints and a bone needle are the tools usually used in the execution of these figurines.
The art of this handicraft combines the manually kneading, the cutting and assembling each dough piece.
One of the most frequent symbols that may be seen in the multitude of figurines is the lion head, being considered as a luck and blessing bringer.
The stamps of this joint stamp issue illustrate simply and suggestively the two handicrafts.
We warmly thank the Romanian Peasant Museum for the documentary and illustrative support granted in accomplishing this postage stamps issue.
Issue date: 2011-11-24