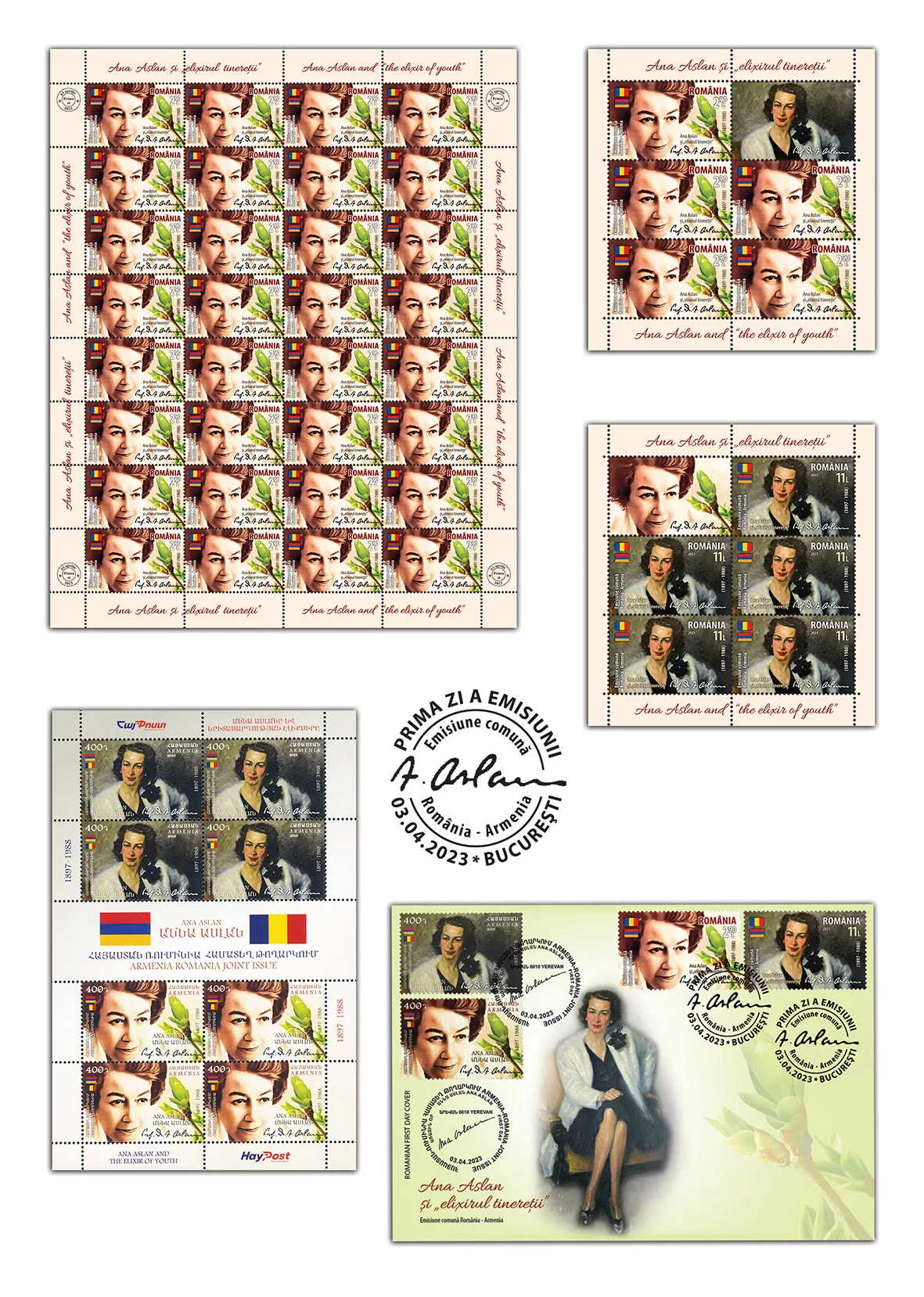 Continuing the series of postage stamps issues dedicated to diplomatic relations, the Romanian stamp is promoting, in a recent project, the relations of collaboration and friendship between Romania and the Republic of Armenia.
Romfilatelia will introduce into circulation the joint stamp issue Romania – Armenia, with the theme Ana Aslan and "the elixir of youth", on Monday, April 3rd, this year, being available in Romfilatelia shops in Bucharest, Bacău, Brașov, Cluj-Napoca, Iași, Timișoara, as well as in our online shop: https://romfilatelia.ro/store/.
The stamp with the face value of Lei 2.90, whose layout was created by Romfilatelia, depicts Ana Aslan in her adulthood. The design of the stamp includes in its concept, in association with the portrait of the exceptional personality Ana Aslan, a symbolic bouquet of buds, known as the seeds of permanent rejuvenation of nature. The similarity to the medicines created by Ana Aslan to preserve human youth is induced in the viewer's mind. The stamp with the face value of Lei 11 depicts the portrait of Ana Aslan in her youth, an oil painting by Jean Alexandru Steriadi, selected by the Armenian Postal Administration for the design of its own stamp. The figure of the character exudes youth and optimism.
The one who would become a major personality of Romanian and world gerontology was born in 1897 in Brăila, in a family of Armenian intellectuals. Ana Aslan later lived in Bucharest until the age of 91.
Romfilatelia thanks the representatives of the Ministry of Foreign Affairs of Romania, the Embassy of the Republic of Armenia in Romania, colleagues from the Armenian Postal Administration – HayPost and the representatives of the National Institute of Gerontology and Geriatrics "Ana Aslan", for their documentary and photographic support fronted to the development of this joint stamp issue.
The philatelic issue will be available starting with Monday, April 03rd, 2023, in Romfilatelia's shops network in Bucharest, Bacău, Brașov, Cluj-Napoca, Iași and Timișoara and online on https://romfilatelia.ro/store/. 
For further information, please contact the Public RelationsOffice:
Tel: 021 / 336 93 92