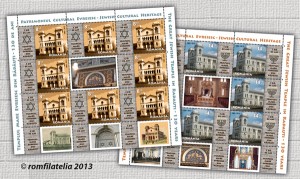 At the beginning of the 19th century, in Radauti area, it was attested the presence of a Jewish community which, in 1830, had inaugurated the cult activity in the first synagogue.
In 1880, on the occasion of the visit of Emperor Franz Joseph I in Radauti, a Jewish delegation asked him to help them purchase a plot for the construction of a great synagogue. It should be mentioned that in the same year, in Radauti, about 3,500 members of the Jewish community were registered, namely 31% of the entire population.
On 18 August 1883, on Emperor Franz Joseph I birthday, theGreatTemplewas inaugurated in the centre of the town, the first service being held by the one who would be, between 1883and 1909, the new Chief Rabbi of the town, Yitzhak Kunstadt.
The Temple is a massive building constructed in a Moorish style having two high towers, each ending in a dome, giving the building the aspect of an Orthodox cathedral. The three arcades from the entrance are sustained by four massive columns.
Inside, there are decorations combining the Moorish, Renaissance and Baroque styles. The windows are circular and they end with arcades.
Over the years, Radauti town had numerous Rabbies who led the religious activity of the community, the last one being Yisroel Hornick in 1947.
Until 1940, more than 35% of the residents in town were Jews but following the war, a large part of them were deported to Transnistria and Soviet Siberia.
After the war, the number of Jews increased to almost 6,000 in 1947. Due to the appearance of the new stateIsraelon the world map, many of them immigrated to the new country that made the number of Jews from Radauti reach to only 800 in 1962.
Nowadays, theGreatTemplein Radauti, used as a religious house, is included on the List of Historical Monuments ofSuceavaCounty.
On 25 July 2012, in the presence of the local officials, the board of the Federation of Jewish Communities inRomania, theGreatTemplewas reopened after its rehabilitation.
On the same day, inside theGreatTemple, it was opened the History Museum of Radauti Jews, an objective that belongs to the policy of presentation and promotion of the history, traditions, culture and contribution of Jews inRomaniato the development of the country.
On the occasion of the 130th anniversary since the inauguration of the GreatTemplein Radauti, Romfilatelia introduces into circulation a postage stamps issue dedicated to this event.
The postage stamps of the issue reproduce the building of the Great Jewish Temple in Radauti, next to Jewish graphic symbols (the Star of David and Menorah).
We kindly thank the Federation of Jewish Communities in Romania for the documentary support granted in the accomplishment of this postage stamps issue.
Issue date: 2013-02-08