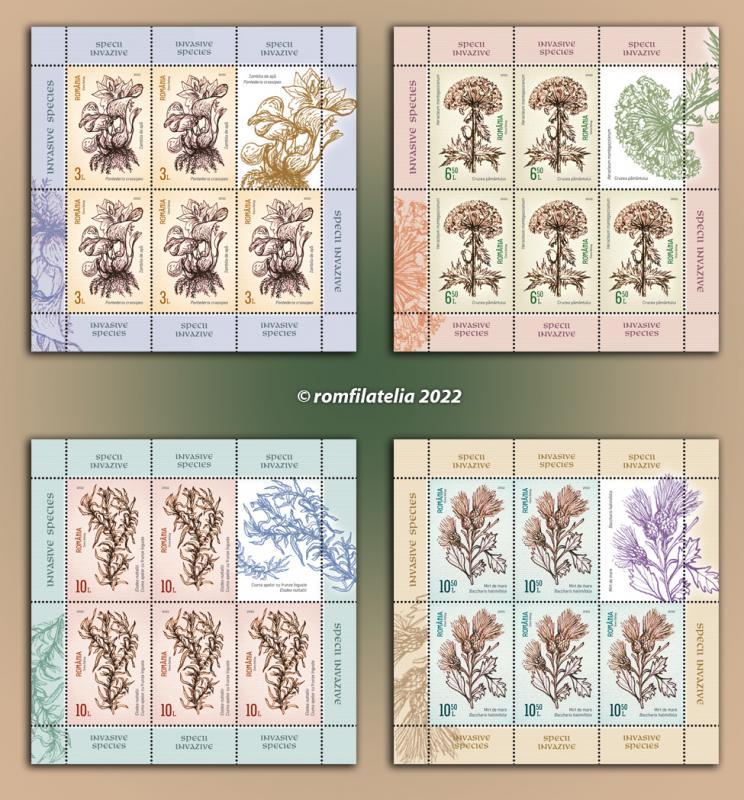 A new postage stamps issue on the theme of Flora, will be introduced into circulation on Friday, June 24, this year, with the generic title: "Invasive species". The images reproduced on the postage stamps belong to plants that are found outside their natural range, having a harmful effect on the ecosystem in which they find a new reproduction and propagation environment.
The postage stamps of the issue feature five species belonging to invasive species:
Pontederia crassipes Mart. (Water hyacinth), illustrated on the stamp with the face value of Lei 3, is a plant native to the tropical and subtropical zone of South America, preferred throughout the world as an ornamental plant because of its hyacinth-like flowers. The water hyacinth is a native plant that can grow up to one metre tall. Under favourable conditions, it spreads rapidly affecting human activities and biodiversity.
Heracleum mantegazzianum Sommier & Levier (Giant hogweed), represented on the stamp with the face value of Lei 6.50, is an herbaceous, perennial, monocarpic plant originating from the Caucasus. Its name is an homage to the anthropologist Paolo Mantegazza. The sap of the plant is dangerous to the eyes and skin, causing burns. It spreads rapidly and it is one of the most harmful species in the British Isles and Eastern Europe.
Elodea nuttallii (Planch.) H.St.John (Western waterweed), depicted on the stamp with the face value of Lei 10, is a herbaceous, perennial, underwater aquatic plant. The stem is slender and branched and the leaves are short, narrow, pale green. It crowds out other aquatic plants, causes shading and consumes oxygen in the water, reduces water flow velocity. Causes secondary eutrophication by decomposing plants at the end of the growing season.
Baccharis halimifolia Moench (Groundsel bush, sea myrtle), illustrated on the stamp with the face value of Lei 10.50, is a North American species of shrub of the Asteraceae family. It is named in honour of the god of wine, Bacchus. Extremely salt-tolerant, it is present along most impoverished or brackish shores of marshes and estuaries. The branches are stiff and dense, and the silver-grey, grey-green foliage turns reddish-purple in autumn. The leaves are toxic to animals if ingested in large quantities.
Lysichiton americanus Hultén & H.St.John, also called "Yellow skunk cabbage", shown on the First Day Cover of the issue, is an herbaceous perennial plant belonging to the Araceae family. It is related to the 'fruit of the earth', found in the forests of our country. It prefers moist, fertile soils and grows best near water, both in sunny and semi-shaded or shady areas. Since 2016, special invasion prevention and control measures are foreseen in the European Union for already established populations of this plant.
Romfilatelia brings thanks to Prof. univ. Paulina Anastasiu Ph.D., the Manager of "Dimitrie Brandza" Botanical Garden of the University of Bucharest, for the documentary support provided for the development of this postage stamps issue.