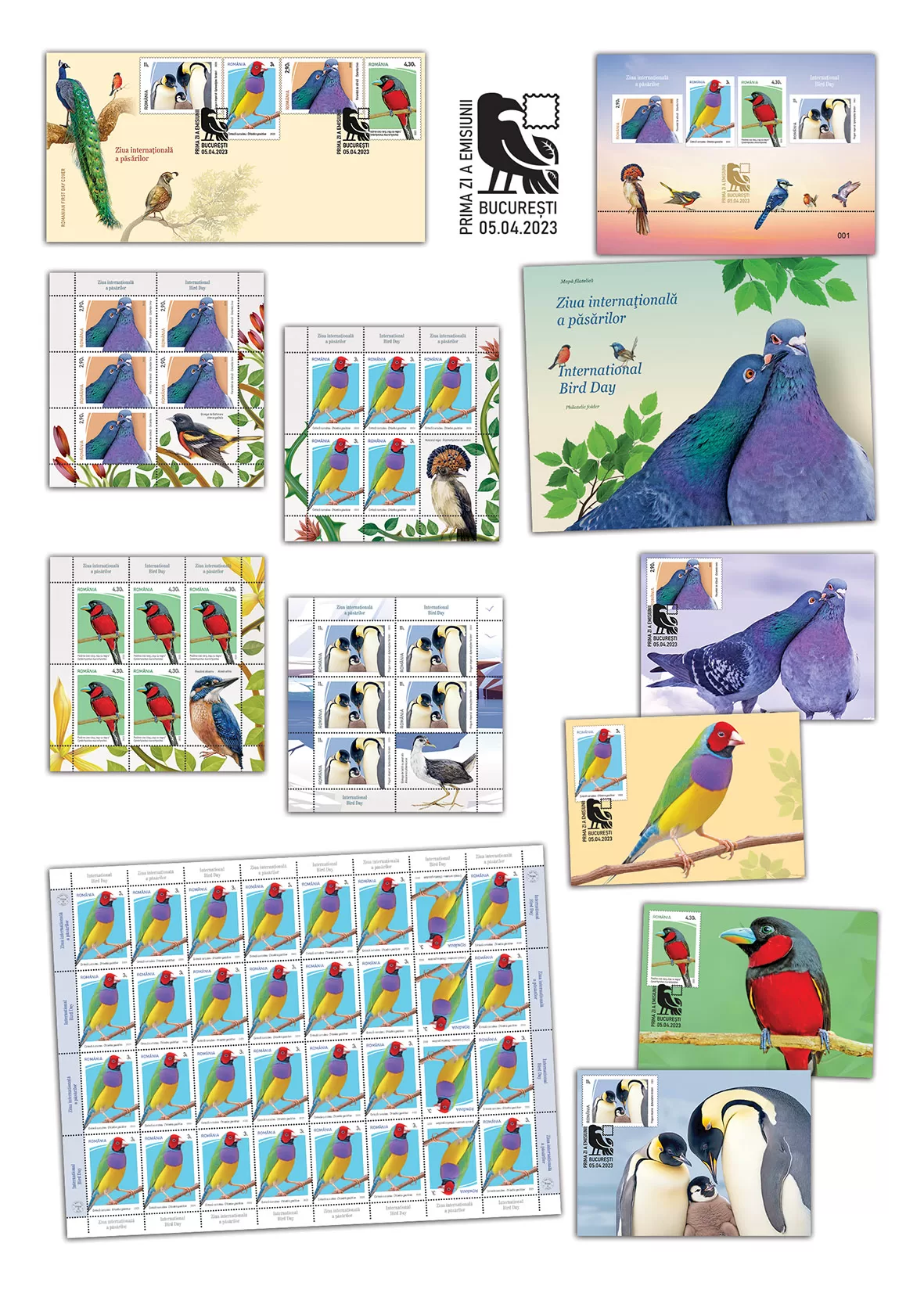 Romfilatelia adds to the theme dedicated to "Fauna" a new issue of postage stamps dedicated to birds from all over the world entitled "International Bird Day", which will be introduced into circulation on Wednesday, April 5, this year.
 The philatelic issue, consisting of four stamps, a First Day Cover and a set of maxicards for maximaphily enthusiasts, illustrates, in new, exciting poses, the following species:
Rock dove – Columba livia (Gmelin, 1789), represented on the stamp with the face value of Lei 2.90;
Gouldian finch – Chloebia gouldiae (Gould, 1844), depicted on the stamp with the face value of Lei 3;
Black-and-red broadbill – Cymbirhynchus macrorhynchos (Gmelin, 1788), reproduced on the stamp with the face value of Lei 4.30;
The imperial penguin (father of the family) – Aptenodytes forsteri (Gray, 1844), illustrated on the stamp with the face value of Lei 11.
All these graphic representations convincingly present the reason why we need to care for the bird fauna and the beauty of the species illustrated in the rainbow of postage stamps colours.
Romfilatelia thanks the representatives of the "Grigore Antipa" National Museum of Natural History in Bucharest, for the documentary support given to the creation of this issue of postage stamps.
The philatelic issue will be available starting with Wednesday, April 05th, 2023, in Romfilatelia's shops network in Bucharest, Bacău, Brașov, Cluj-Napoca, Iași and Timișoara and online on https://romfilatelia.ro/store/. 
For further information, please contact the Public RelationsOffice:
Tel: 021 / 336 93 92