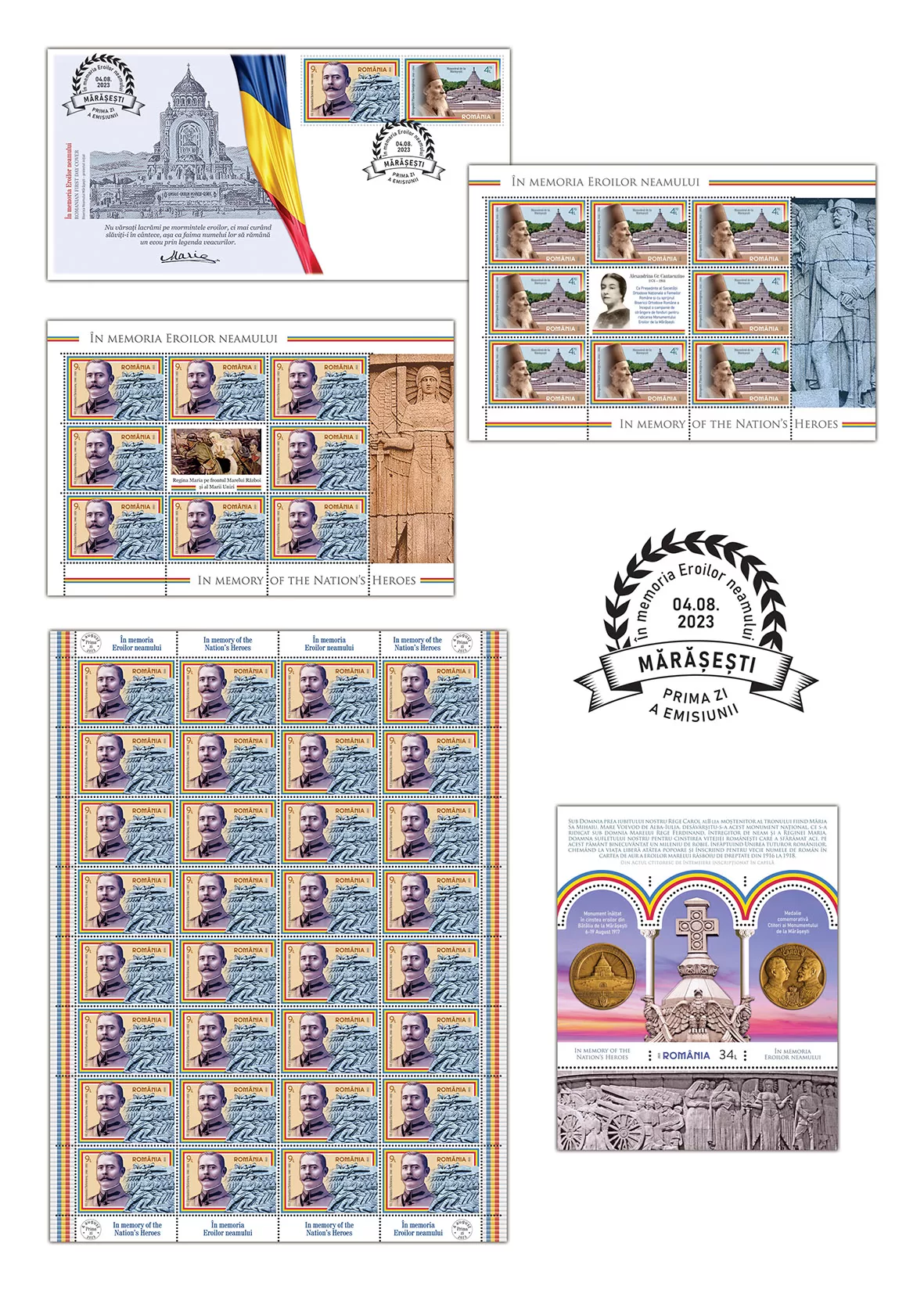 To honour the heroes fallen in the battles of Moldova in 1917, Romfilatelia has created an anniversary issue of postage stamps dedicated to the Centenary of the Mărășești Mausoleum, entitled In Memory of the Nation's Heroes.
The issue, consisting of 2 postage stamps, 1 perforated souvenir sheet and 1 First Day Cover, will be introduced into circulation on Friday, August 4th, 2023.
The first postage stamp, with the face value of Lei 4.70, depicts the image of the Mausoleum of the Heroes of Mărășești, together with the portrait of Pimen Georgescu, former Metropolitan of Moldavia between 1909-1934, one of the promoters of the idea for the construction of the mausoleum.
The Mausoleum of the Heroes of Mărășești is the first great national project carried out by the Romanian society after the unification of all the historical provinces on December 1st, 1918. In 1919, at the Congress of the National Orthodox Society of Romanian Women, the Metropolitan proposed the erection of a Church of the Nation, on the site of the battles of Mărășești, as a shrine where the war widows, war orphans and the Romanian society would honour the memory of those who fell in the battles of the World War I.
The second postage stamp, with the face value of Lei 9, shows the portrait of General Constantin Christescu, one of the most important military strategists of the First World War, the one who thought up the plans for the famous Battle of Mărășești in the summer of 1917.
On the souvenir sheet of the issue, having the stamp with the face value of Lei 34, the following elements are depicted in the graphic composition: in the upper part – detail of the dome of the Mausoleum, with the cross, and on the sides, the medal (obverse and reverse) dedicated to the Heroes of the Nation and the Mausoleum, medal issued during the period of Royalty.
Romfilatelia thanks the representatives of the Vrancea Museum and the Vrancea County Council for their collaboration in the development of this issue of postage stamps.
The philatelic issue will be available starting with Friday, August 04th, 2023, in Romfilatelia's shops network in Bucharest, Bacău, Brașov, Cluj-Napoca, Iași and Timișoara and online on https://romfilatelia.ro/store/. 
For further information, please contact the Public Relations Office:
Tel: 021 / 336 93 92