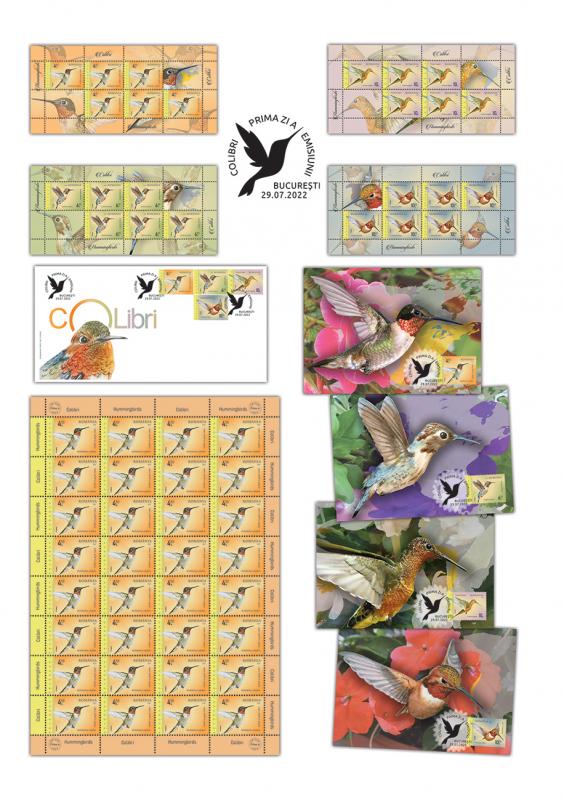 Romfilatelia introduces into circulation on Friday, July 29th, this year the issue under the generic name "Hummingbirds", inviting collectors of the Fauna theme to the wonderful world of the smallest birds in the world, which, despite their small size, are extremely fast and intelligent.
The issue includes four stamps, four minisheets, a First Day Cover and for the passionate of maximaphily, a set of four different maxicards.
The ruby-throated hummingbird (Archilochus colubris), represented on the stamp with the face value of Lei 4.50, is a species of hummingbird that nests in Canada and eastern North America and winters in Central America.
The bee hummingbird (Calypte helenae), depicted on the stamp with the face value of Lei 6.50, is an endemic species of the Cuban archipelago. The bee hummingbird is the world's smallest bird, but an agile and powerful flyer.
The giant hummingbird (Pantagona gigas), illustrated on the stamp with the face value of Lei 10.00, is a species spread in the east of South America. As the name suggests, it is the largest of over 300 species of hummingbirds with a size of 20 cm.
The Allen's hummingbird (Selasphorus sasin), depicted on the stamp with the face value of Lei 10.50, is one of the seven species of the genus Selasphorus. It nests in the western United States, in scrubby forests and coastal grasslands.
The philatelic issue will be available starting Friday, 29th of July, in Romfilatelia's shops network in Bucharest, Bacau, Brasov, Cluj-Napoca, Iasi and Timisoara and online on https://romfilatelia.ro/store/.
Romfilatelia thanks the representatives of the "Grigore Antipa" National Museum of Natural History in Bucharest for the documentary support provided to the development of this postage stamps issue.
For further information, please contact the Public Relation Office:
Tel: 021 / 336 93 92