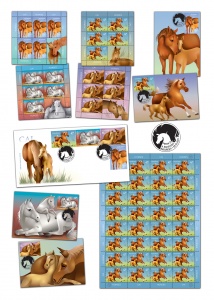 Responding to enthusiasts of philatelic thematic collections and animal lovers, Romfilatelia introduces into circulation on Friday,  December 3rd, 2021 the postage stamps issue entitled "Horses".
The four stamps of the issue, the maxicards and the First Day Cover, reproduce into a delicate graphic concept, images of the horse families with their warm and protective attitude towards their foals, the energy of running, the statuary beauty of the limbs of this species, much loved and protected by people. The history of human society, in its evolution, includes since early antiquity, the presence of horses in everyday life, whether it was in transport and fast travel, or in the frequent wars mankind has had ever since the fifth and sixth centuries BC, in the time of the Assyrians and the Persians. First used for riding and for supervising long-distance herds scattered for grazing, the horse became an important element in the transport revolution, with the advent of wheeled vehicles around 3500 BC. in Mesopotamia. The use of horses has made a decisive contribution to the development of trade and to the emergence of the first elements to change people's lives by arranging transport routes.
Losing their original importance, horses of many breeds are bred for sporting events, horseback riding, search and rescue operations, in police patrols. They are still needed in hard-to-reach areas where there are no routes adapted for the transport of goods and people.
The face values of the postage stamp issues are Lei 2.60, Lei 4.50, Lei 6.50 and Lei 16.
Romfilatelia thanks the "Grigore Antipa" National Museum of Natural History for the documentary support provided for the development of this postage stamps issue.
The postage stamps issue Horses will be available on Friday, 3rd of November 2021, in Romfilatelia's shops network in Bucharest, Bacau, Brasov, Cluj-Napoca, Iasi and Timisoara and online on https://romfilatelia.ro/store/.
For further information, please contact the Public Relation Office:
Tel: 021 / 336 93 92