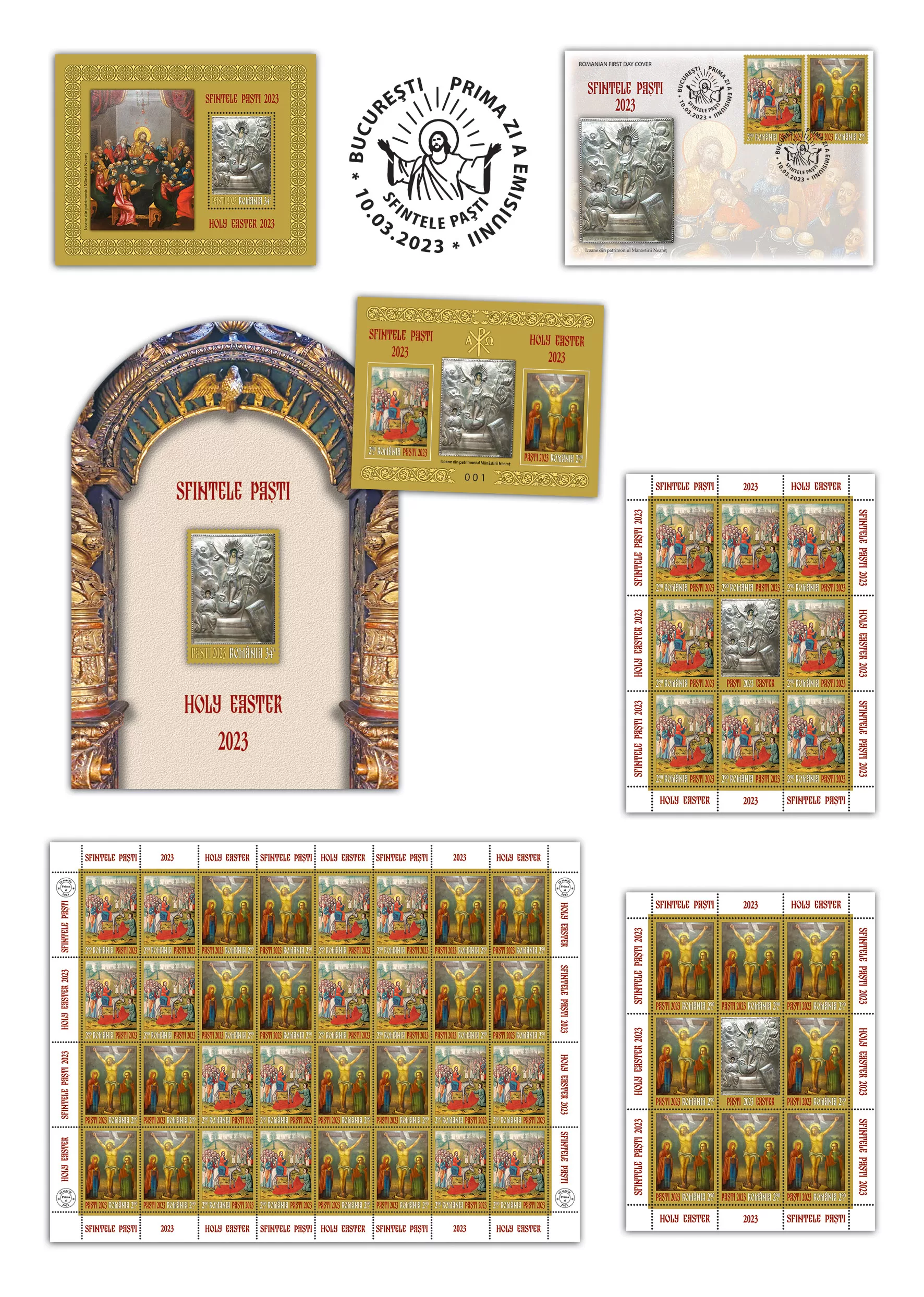 Romfilatelia announces the Resurrection of the Lord with a new postage stamps issue entitled Holy Easter 2023, which will be introduced into circulation on Friday, 10 March. The issue consists of 2 stamps with the same face value of Lei 2.90, illustrating "The Entry of the Lord Jesus Christ into Jerusalem" and "The Crucifixion" and a perforated souvenir sheet which contains the stamp with the face value of Lei 34 depicting the image of the icon of the Resurrection of the Lord Jesus Christ. In the graphic composition of the souvenir sheet it is reproduced the image of the icon "Last Supper". A special silver stamp product will be available for collectors.
Holy Easter is the most beautiful and meaningful religious celebration for all Christians. Because the Mass on Resurrection night shows us that "All is light: Sky, earth and hell". Which means that darkness does not have an existence in itself, but is rather, as theologians explain, a resistance, an opposition that arises when light is revealed to us, a darkness that Christ shatters, "trampling down death by death". This is why the Holy Apostle Paul wonders in his first letter to the Corinthians: "O death, where is thy victory?".
Holy Easter is the promise of redemption, it is the moment when hope becomes certainty, it is the sign that the promise has been fulfilled, the Word has become flesh in order that man may become god, a partaker, a witness of the triumph of the Light.
Romfilatelia wishes you that the joy of the Resurrection enter in your house and soul, and your life  be blessed with the Holy Trinity! May your greetings resound on this Holy Celebration, in the consecrated formula: Christ is Risen! Indeed, He is Risen!
Romfilatelia thanks Father Archimandrite Benedict Sauciuc, Abbot of Neamț Monastery, for his documentary and photographic support granted in the development of this postage stamps issue and for his blessing.
The philatelic issue will be available starting Friday, March 10th, 2023, in Romfilatelia's shops network in Bucharest, Bacau, Brasov, Cluj-Napoca, Iasi and Timisoara and online on https://romfilatelia.ro/store/. 
For further information, please contact the Public Relation Office:
Tel: 021 / 336 93 92