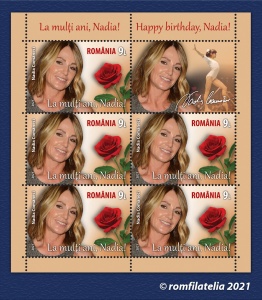 A Star Is Born! (Newsweek, August 2nd, 1976)
In order to honour the great world gymnastics champion and a beautiful anniversary, Romfilatelia dedicates to Nadia Comaneci the postage stamps issue "Happy Birthday, Nadia!".
The issue, consisting of a stamp, with the face value of Lei 9, an imperforated souvenir sheet, with the face value of Lei 31.50 and a First Day Cover, will enter into circulation on Friday, November 12th, this year, the birthday of the great athlete.
On the stamp of the souvenir sheet is depicted a sequence from a beam exercise performed by Nadia Comaneci and on the First Day Cover are illustrated stamps and souvenir sheets dedicated, over time, to the famous sportswoman.
This philatelic project is an opportunity for all those who love Nadia Comaneci to relive the excitement of the 1976 Summer Olympics in Montreal, when a girl originating from the lands of Moldova became an international star.
The 1976 press reports exploded with her performance at the Montreal Summer Olympics. The first score of ten in the history of world gymnastics was attributed to a 14-year-old female athlete from Romania.
After her remarkable evolution at the Olympic Games, two of the elements presented in the competition still bear her name at present: "Comaneci Descent"and "Comaneci Jump", being nicknamed the "Goddess of Montreal". Considered to be one of the best female athletes of the 20th century, she is also the first Romanian gymnast included in the International Gymnastics Hall of Fame, in 1993.
 For Romania and Romanians everywhere, Nadia belongs to the national heritage, her name being associated with Romania more than any other. The appreciation and admiration for the special merits she had throughout her sports career went around the world, remaining in the souls of all Romanians everywhere.
Respect, admiration, gratitude for the star of women's world gymnastics!
Romfilatelia thanks Mrs. Nadia Comaneci and the Nadia Comaneci Foundation in Romania for the documentary and photographic support granted in the development of this postage stamps issue.