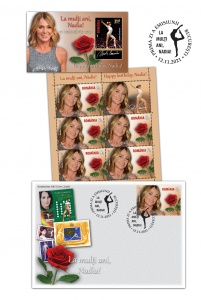 Respect, admiration, gratitude for the star of women's world gymnastics!
In order to honour the great world gymnastics champion and a beautiful anniversary, Romfilatelia dedicates to Nadia Comaneci the postage stamps issue "Happy Birthday, Nadia!".
The issue consists of a stamp, with the face value of Lei 9, an imperforated souvenir sheet, with the face value of Lei 31.50 and a First Day Cover.
On the stamp of the souvenir sheet is depicted a sequence from a beam exercise performed by Nadia Comaneci and on the First Day Cover are illustrated stamps and souvenir sheets dedicated, over time, to the famous sportswoman.
This philatelic project is an opportunity to relive the excitement of the 1976 Summer Olympics in Montreal, when a girl originating from the lands of Moldova became an international star.
For Romania and Romanians everywhere, Nadia belongs to the national heritage, her name being associated with Romania more than any other. The appreciation and admiration for the special merits she had throughout her sports career went around the world, remaining in the souls of all Romanians everywhere.
Romfilatelia thanks Mrs. Nadia Comaneci and the Nadia Comaneci Foundation in Romania for the documentary and photographic support granted in the development of this postage stamps issue.
The postage stamps issue "Happy Birthday, Nadia!" will be available on Friday, 12th of November 2021, in Romfilatelia's shops network in Bucharest, Bacau, Brasov, Cluj-Napoca, Iasi and Timisoara and online on https://romfilatelia.ro/store/.
For further information, please contact the Public Relation Office:
Tel: 021 / 336 93 92