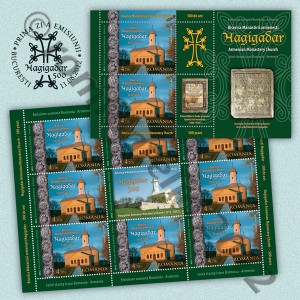 500 years ago, not far from the current Suceava town, on top of Bulai Hill, near a black wooden chapel, two Armenian brothers halted one night on their way toBudapestwhere they were going to sell their cattle.
The Holy Virgin appeared in the dream of the two brothers telling them: "I bless you, may your trade be prosperous and your families live in welfare. And if this would be so, I ask you when you return to this place to build a monastery having the "Assumption of the Virgin Mary" as its dedication day."
The bargain of the two brothers was good and upon their return, they stopped again on top of the hill, they thanked the Holy Virgin and decided to build a fortified stone monastery they called Hagigadar (in Armenian: hagiuik-wish and gadarel-to fulfil).
Hagigadar Monastery, situated in Bulai village from Moara commune (SuceavaCounty), is attested ever since 1512.
ThechurchofHagigadar Armenian Monasterywas built during the reign of Bogdan the Blind by Dragan Donavac, an Armenian drover, fact mentioned in an inscription carved near the front door of the church.
The church was built in three stages, the first between 1512-1513, when there was only a nave and the altar apse. The second stage was in the second half of the 17th century when they built the current narthex and an octagonal dome. In the third stage, the second half of the 19th century, they demolished the wall separating the narthex from the nave and the church got its current shape.
WhenNorthern Bucovinacame under the Habsburg occupation, Hagigadar became a nun monastery called the "Armenian Metoc" (subsidiary monastery).
At that time, just like nowadays, the legend of the wonder-working Icon of the Holy Virgin made many Orthodox and Catholic believers pass the threshold of the Wishes Church before starting a business, a construction, or hoping for their illness to be cured, and pray by climbing the hill on their knees up to the monastery to light a candle to the Icon.
Hagigadar is not only known as a place where wishes come true, but also the place where, in the fall of 1943, Archimandrite Vazgen I (born in Bucharest in 1908), future Catholicos of Etchmiadzin and Supreme Patriarch of All Armenians (1955-1994), spent a canonic period of 40 days after his ordination.
It must be mentioned that Hagigadar Monastery was included in 2004 on the List of Historical Monuments inSuceavaCounty.
Due to its historical and esthetic value and also to the 500 years anniversary of the HagigadarMonasteryChurch, it has been chosen as a thematic element for the joint stamp issue Romania-Armenia that Romfilatelia introduces into circulation.
We kindly thank the Embassy of the Republic of Armenia in Romania and the Diocese of the Armenian Church of Romania in Bucharest for the support granted in the accomplishment of this postage stamps issue.
Issue date: 2012-08-11