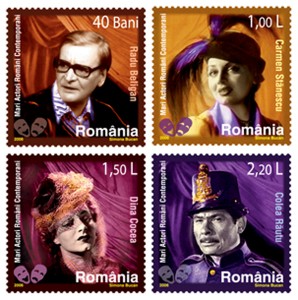 Using the postage stamp as an efficient and beloved means of sending messages, Romfilatelia started a project dedicated to the promotion of the cultural and artistic values and of famous personalities who succeeded to bring to our minds and souls the taste for the true art of theatre and film. As an integral part of this project, Romfilatelia, the specialized company in editing and trading Romanian postage stamps, introduces into circulation the postage stamp issue Great Contemporary Romanian Actors.
The philatelic issue presents some of the greatest and longeval actors of the Romanian scene and film, namely: Radu Beligan, Dina Cocea, Carmen Stănescu and Colea Răutu.
Radu Beligan was born on the 14th of December 1918, in Galbeni village (Bacău county). He was student of professor Lucia Sturza Bulandra, at the Royal Academy of Music and Dramatic Art.
In his more than 60 years of theatrical activity, he played in over 30 feature films and he had over 80 roles in plays.
He was the general manager of the "I.L.Caragiale" National Theatre of Bucharest, since 1969 until 1990.
Since 2001, he has been an Honorable Member of the National Theatre.
He is the Honorable President of the International Theatre Institute and an honorary member of the Romanian Academy.
In 2002, the President of France, Jacques Chirac, conferred him the rank of Officer of the French "Legion of Honor" National Order.
Dina Cocea was born on the 27th of November 1912, in Bucharest. She graduated the acting studies in Paris. Her theatrical beginning took place at the "Comedia" Theatre of Bucharest, in January 1935, with the play "The true Jacob".
Between 1941-1949, she was a manager of "Teatrul Nostru" and of the "Studioul Teatrului Nostru". Between 1952-1962, she was Dean of the Theatre Faculty, and between 1979-1989 she was the President of the Theatrical and Musical Institutions Artists Association.
In time, Dina Cocea played in more than 10 feature films, she had over one hundred roles in drama shows, radio dramas and television dramas.
She had a prodigious essay and publication activity, writing innumerable articles of synthesis, critics and dramatic chronicle in the autochthonous and foreign specialized press.
Carmen Stănescu was born on the 29th of July 1925, in Bucharest. She graduated the Royal Conservatory of Music and Dramatic Art, generation 1944-1948. In 1945, following her excellent performance in an examination, after only one year of Conservatory, she was hired at the National Theatre by the manager Academician Tudor Vianu.
Since then, for 62 years, she played in tens of roles in plays and in more than ten feature films. She had and still has many appearances in drama shows and entertainment shows at the Romanian Television, as well as in radio transmissions.
She has been an Honorable Member of the "I.L.Caragiale" National Theatre since 2002. In 2003, she published the book "Revelations".
Colea Răutu was born on the 28th of November 1912, at Limbenii Noi, Bălţi county, in Basarabia.
He began at the "Cărăbuş" musical theatre, managed by Constantin Tănase, where he interpreted particularly social satirical vaudevilles. It was there he interpreted for the first time the famous top seller "Ţi-a ieşit coşaru-n drum" ("The
chimney-sweep crossed your way"), by Gherase Dendrino, on the verses of Puiu Maximilian.
For a while, he played at the National Theatre, due to Sică Alexandrescu, and between 1952-1968 he played at Giuleşti Theatre.
He interpreted roles in more than 70 feature films, both Romanian and foreign, and in TV series.
Romfilatelia, together with all the theatre and film lovers, dedicates to these great actors, our contemporaries, in token of appreciation and respect, a postage stamp issue meant to accompany the written thoughts of Romanians and to have an honorable place in the collections of philately enthusiasts.
Issue date: 2006-11-15