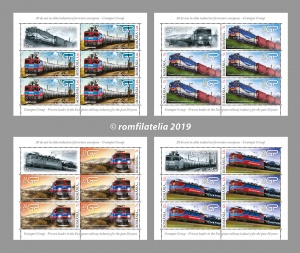 On Friday, April 19th, this year, Romfilatelia introduces into circulaton a postage stamps issue, with the topic related to what the railway domain represents: locomotives and liners as  means of transport by railroad.
The history of the railway, used as an ordered public transport, began in the year 1825, when George Stephenson built the locomotive equipped with a steam engine for Stockton-Darlington (England) railroad.
After more than 50 years, Werner von Siemens presented in Berlin the first passengers train whose liner was towed by an electric locomotive.
On the territory of Romania, the first railway was inaugurated in 1864 on the route Oravita-Bazias (on the territory of Banat under the administration of Austria). Five years later, in 1869, the first Bucharest-Giurgiu railroad was put into operation on the territory of the United Principalities.
The postage stamps issue released under the name of Grampet Group, proven leader in the European railway industry for the past 20 years, is considering an activity carried out by a multinational company with Romanian capital, which owns the largest railway group and private logistic operator in south-eastern Europe. In this context, any beneficial initiative meant to revive what is defined as railroad, is justified to be mentioned and promoted.
The company carries out a complex activity, adding freight, construction, repairs, rolling stock upgrades, spare parts production and logistics services to rail freight services.
Promoter of the country brand, GRAMPET GROUP marks as leading logo Romanian Railway Group (GFR) on the first place among the railway operators in the private sector, achieving one fifth of the volume of international transport. Based on the signed agreements, GFR is present in railway transport on the territories of Hungary, Bulgaria, Moldova, Serbia, Slovakia, Croatia, Austria, Germany and Greece.
Through the design and production activities of the factories Reva Simeria, Electroputere VFU Pascani and Reloc Craiova, the GRAMPET Group covers 100% of the market for the requirements for rolling stock repairs in Romania.
The actions initiated in order to implement the digitization of the services offered, having as a central element the E-client portal, a national premiere, promotes the criteria that give GRAMPET GROUP an authoritative and well-known leadership in a field of great strategic and economic importance, both, in Romania and abroad.
The images reproduced on the four postage stamps of the philatelic set, took into account the suggestive illustration of the transport seals for various goods such as petroleum products (face value of lei 3.10), industrial goods protected in special wagons (face values of lei 5 and lei 7) and cars (face value of lei 12).
The GFR logo and the complete name of the ROMANIAN RAILWAY GROUP are presented as clear identification elements both in the country and abroad.
The image of the postage stamp of the souvenir sheet (face value of lei 28.50) and the graphic concept, are meant to illustrate the size of the transport seals in a long free space.