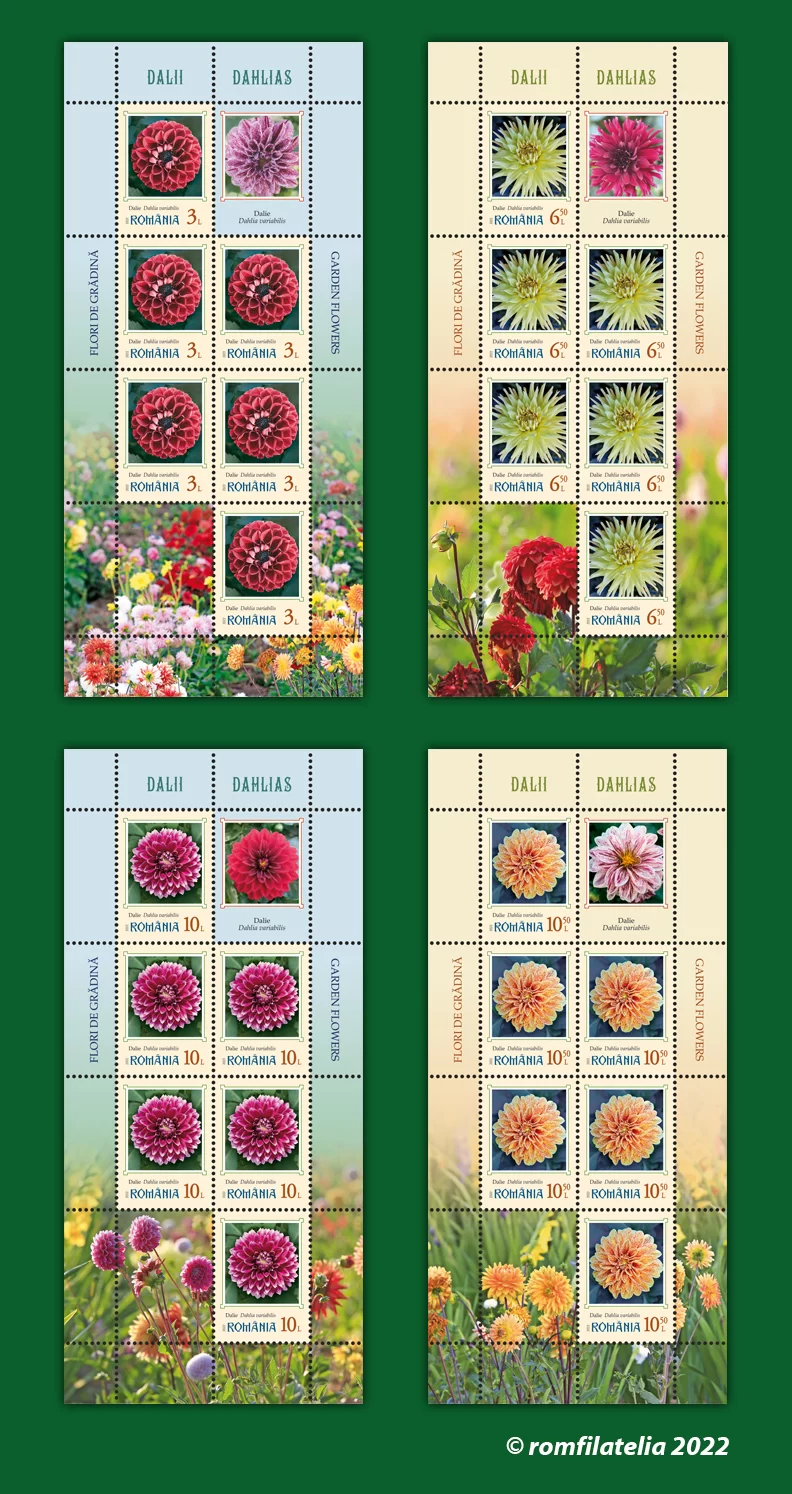 Romfilatelia approaches the topic Flora, introducing into circulation on Friday, October 21st, this year, the postage stamps issue Garden Flowers. Dahlias.
 The issue, consisting of four stamps with the face values of Lei 3, Lei 6.50, Lei 10, and Lei 10.50, as well as a First Day Cover, illustrates the Dahlia variabilis species, depicted in various colour variations corresponding to different varieties.
Native to Central America and Mexico, it was brought to Europe at the end of the 18th century, winning over flower lovers immediately. The formal history of the dahlia begins in Spain, where Antonio Jose Cavanilles gave the genus its Latin name in honor of Andreas Dahl, a Swedish botanist and student of Linnaeus.
This variety of plants arrived in our country at the beginning of the 19th century. Today it is cultivated in the most varied ways, in beds or borders, in rows or in compositions with other summer-blooming flowers, the dahlia always delighting with its distinctive blooms. It has been used since Aztec times as a food source and medicinal plant.
Dahlia variabilis (Dalia pinnata) is an ornamental perennial. It belongs to the category of resistant plants, that don't require special care.
Ideal planting time: April-May and flowering time: June-September. Propagation is by seeds, by dividing the tuberous roots, by cuttings, a method used by Dutch horticulturists. The inflorescences are single or double, with a wide variety of colours, and the height of the plant is 30-50 cm.
Its colour diversity, successive flowering and tolerance to soil substrate are qualities that make it the choice for almost any composition. The soil in our country lends itself to growing dahlias without any problems.
It grows very well in sunny places, with a minimum of 6 hours of sun exposure a day for a rich growth.
Dahlias (in Romania, dahlia is also known as gherghină) grow well in fertile soils fertilised with manure, or with complex fertilisers incorporated into the soil during land preparation.
As a member of the Asteraceae family, the dahlia has inflorescences in which the apparent petals are actually one flower each.
Romfilatelia thanks Prof Paulina Anastasiu, Ph.D., Manager of "Dimitrie Brandza" Botanical Garden of the University of Bucharest for the documentary support provided to the development of this postage stamps issue and the photographer Octavian Chende.