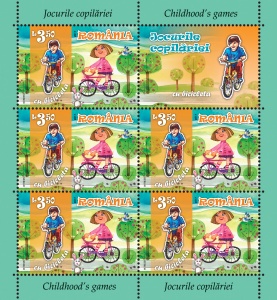 "Where am I from?
I'm from my childhood.
I'm from my childhood like I'm from a country!"
Antoine de Saint-Exupery

The age of innocence and sincerity, childhood is lived as a world full of joy in which time unfolds affectionately and reality is transposed, through creativity, into games and play.
The years of childhood are in our memories, the years that formed us for what we later become in life and get the significance of that unique space, filled of good and beautiful, to which we always return to find and rediscover ourselves.
Close to the International Children's Day, Romfilatelia introduces on Wednesday, May 31st 2017, the philatelic issue "Childhood Games", available in Romfilatelia stores in Bucharest, Bacau, Brasov, Cluj-Napoca, Iasi, Timisoara.
The issue dedicated to 1st of June Anniversary features some of the games that have delighted and continue to enjoy generations of children.
The four nominal values ​​of the show illustrate the "Childhood's Games" graphically represented by the young artist, Anne Margret Riess, a second grade pupil at "Ioan Petruş" High School in Otopeni.
The bicycle is illustrated on the stamp with the face value of lei 3.50. Cycling is a favorite activity for children, and is also a fun sport with benefits with harmonious development for those who practice it.
The ball is represented on the stamp with the face value of lei 4. The ball game is usually associated with the notion of team, socialization, friendship, competition and that is why it is mandatory in the life of the little ones.

Another loving game of childhood is Hopscotch, which is graphically symbolized on the stamp of lei 4.50. The geometric figures drawn on the asphalt with the chalk always bring fun and good mood.
Winter has always been a season beloved by children. The Sled and the Snow Man are represented on the stamp witht the face value of lei 15.
The "Childhood Games" philatelic issue is completed with the "first day cover" envelope that brings the game with the Kite to the forefront of its image. Made of colored paper and made to cross the sky, kite play brings plenty of satisfaction to children today.
On their birthday, Romfilatelia wishes to all children in Romania and everywhere "Happy birthday!"
For further information, please contact the Public Relation Office:
Tel: 021 / 337 24 42