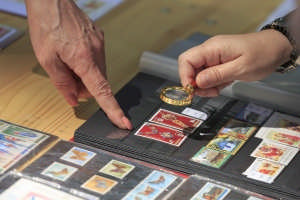 "Childhood is the heart of all ages." (Lucian Blaga)
With this thought in mind, we've gathered in the green space of our welcoming host, the "Dimitrie Gusti" National Village Museum, to celebrate one of the most beloved and beautiful holidays of innocence and happiness – International Children's Day.
Celebrating fun and joy, Marky returned this year to the little village in the heart of the city, where he recreated the wonderful universe of childhood, greeting the little ones with games, music, fun, stories, songs and joy, but also with competitions and prizes for everyone.
Lots of children, accompanied by parents and grandparents, reunited in the Summer Pavilion, where the greatest party for children was taking place, and were welcomed by Marky, their best friend, who guided them in the fascinating world of the Romanian postage stamps.
For those coming to visit, Marky prepared many special surprises and prizes, which were gained by children after finishing the competitions' trials successfully. Face painting, music, balloons, the stamps box, games, dances, coloring and drawing competitions completed the fun program for June 1st and fascinated both children and adults with young souls.
The most special surprise was the launching of the postage stamp issue Childhood's characters, introduced into circulation on the children's day, where heroes were the beloved characters from stories – Ileana Cosanzeana, Prince Charming, Neghinita,
Mr. Goe and the Two penny bag.
The philatelic issue was received with joy by everyone present at the Village Museum, the little ones being excited to be near the characters found on the stamps dedicated to childhood. Thus Ileana Cosanzeana, Neghinita and Mr. Goe entertained all the guests throughout the party, with special artistic representations and charming choreographies.
The Romfilatelia team thanks all children and parents who chose to have fun in our company on the occasion of the International Children's Day, and we invite them to visit us again in the years to come, when we'll greet them with new surprises, prizes and competitions, but with the same enthusiasm and the same promise for fun and friendship, in the wonderful world of stamps.