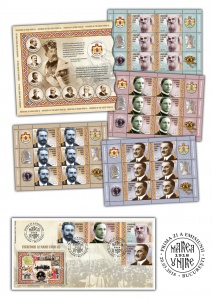 In the anniversary year of the 1918 Great Union Centenary, Romfilatelia introduces into circulation the postage stamp issue Founders of the Great Union, part I, which honors the personalities that contributed to the achievement of the Romanians' most important ideal. The new issue will be presented on Tuesday, March 20th 2018, during the session of scientific communication dedicated to the Centenary of the Great Union, organized by Romfilatelia in partnership with the Romanian Academy and the Central University Library "Carol I".
The new issue will be available on Tuesday, March 20th, 2018, in Romfilatelia' own shops network in Bucharest, Bacau, Brașov, Cluj-Napoca, Iași and Timișoara and online on https://romfilatelia.ro/store/.
100 years ago, Romania suffered a serious and painful historical standstill. Once entered in World War I, in 1916, because of the unwavering desire for unification of all Romanians into the historical boundaries, the country faced an unequal battle, in terms of manpower and military endowment, with the German and Austro-Hungarian troops. After retreating in Moldova, a move that resulted in huge losses, the army subsequently obtained decisive victories, whose consequences, combined with favorable international situations, made possible, in 1918, the unification of Bessarabia (March 27th), Bukovina (November 28th) and Transylvania (December 1st) with the Romanians from the Kingdom of Romania.
The stamp with the face value of Lei 2.50 illustrates Miron Cristea, the first Patriarch of the Romanian Orthodox Church. The portrait of Cardinal Iuliu Hossu, a Greek-Catholic bishop is displayed on the stamp with the face value of Lei 4.50. Iuliu Maniu, a fighter for the national cause of the Romanians in Transylvania, is prominent on the stamp with the face value of Lei 8. The portrait of Ion I.C. Bratianu, Prime Minister during World War I, is rendered on the stamp with the face value of Lei 15. On the imperforated souvenir sheet of the postage stamp issue, with the face value of Lei 16, is illustrated King Ferdinand I, alongside other founders of the Great Union: Take Ionescu, Alexandru Vaida-Voevod, Constantin Stere, Samoila Marza, Gheorghe Pop de Basesti, Sextil Puscariu, Iancu Flondor, Ion Nistor, and on the stamp of the souvenir sheet is printed the small Romania's coat of arms, which had represented on its shield, the territories included between borders of the country up to the Great Union of 1918. 
The postage stamp issue is completed by a First Day Cover, as page composition there were used a sheet of 32 stamps, a minisheet of 6 stamps + 6 labels and an imperforated souvenir sheet.
Romfilatelia thanks His Beatitude Daniel, the Patriarch of the Romanian Ortodox Church, the Academician Razvan Theodorescu, the National Archives of Romania, the Museum of Bukovina from Suceava, professor Corneliu Andonie from the National Military Museum and Mr. Emanuel Cosmovici from the "Bunavestire Programs" Association, for the documentary and photographic support granted for the achievement of this postage stamp issue.
 For further information, please contact the Public Relation Office:
Tel: 021 / 337 24 42
roxana.herascu@romfilatelia.ro