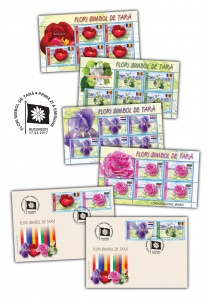 Flora, one of the beloved and welcomed themes for those passionate by philately, is once again taken up this year by Romfilatelia within the postage stamp issue "Flowers, National Symbol". This philatelic project gathers the symbol flower of several Danube states, together with their national flag.
This philatelic issue comprises of four stamps and it is available starting on Friday, February 17th 2017, in Romfilatelia stores in Bucharest, Bacau, Brasov, Cluj-Napoca, Iasi and Timisoara.
The peony, Paeonia peregrina, is Romania's flower national symbol also known under the name of the Palm of the Lord's Mother (verbatim). In popular culture, the peony is often associated with longing, with physical beauty or love.
Therefore,  the image of the peony is reproduced on the stamp with the face value Lei 1.50.  It is a flower All its other names are popular, archaic and describe the Romanian peony.
The symbol flower of the Republic of Moldova is the basil, whose image is reproduced on the stamp with the face value of Lei 4.5 .

To the left of the Prut the basil is one of the most beloved and sung plants. Because of its special aromatic oils and its preservation properties, basil is used in the Orthodox Church rituals to produce holy water, having the role of chasing away evil spirits. At the same time, in the local tradition this plant is considered the flower of love and luck. In popular medicine, basil is used as a plant for memory improvement and as an anti-stress remedy.
The Republic of Croatia's national flower, illustrated on the stamp with the face value of Lei 8 is Iris croatica. The Croatian name for this flower is Perunika and comes from the name of Perun, who was the greatest god of thunder and lightning in Slavic mythology. Legend has it that Perunika will only grow in the place where the god Perun's lightning strikes.
About the gorgeous purple flower, herbalists claim that it is a simple remedy to keep under control a variety of diseases.
Rosa damascena whose image is reproduced on the stamp with the face value of Lei 15 is a symbol of Bulgaria and it is considered a brand known worldwide, as the wide range of cosmetics that have aromas of rose gold are called "Bulgarian gold" or, "liquid gold".
Rosa damascena or Kazanlak Rose is a highly fragrant flowering plant from which essential oil, sugar and syrup are extracted. From this variety of rose one can extract 30% more oil than of any other rose.
Romfilatelia thanks the "Dimitrie Brandza" Botanical Garden of the University of  Bucharest, the Republic of Moldova Embassy in Romania, the Republic of Croatia Embassy in Romania, the Republic of Bulgaria Embassy in Romania for their documentary support granted in the creation of this issue postage stamp issue.
For further information, please contact the Public Relation Office:
Tel: 021 / 337 24 42
anamaria.anton@romfilatelia.ro