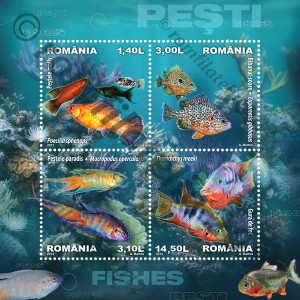 The aquatic environment is a subject that has permanently aroused and incited the curiosity and imagination, no matter if it is taken into consideration a scientific, sportive approach or as an original and decorative natural element. It is a complex and rather difficult to access environment, always accompanied by some mystery and a push for adventure, often challenging people's ambition.
There are a lot of aquatic world lovers, whether scientists, divers, fishermen, sailors or mere adventurers, each of them seeking by their actions to get closer to this wild and surprising world, which has also proved to be lavish and extremely beautiful.
Romfilatelia has constantly approached this theme, and this year, it introduces into circulation the postage stamps issue "Fishes", thereby revealing a small part of this magnificent universe.
The Molly Fish (Poecilia sphenops), illustrated on the postage stamp with the face value of 1.40 RON originates from the Central America area, from the low-salt waters of the lakes, lagoons and coastal areas. Its body is elongated and flattened on the sides and has a pointed mouth and a fan-like tail. This type of fish is differently and widely coloured, ranging from black to orange or blue.
It is a disease-resistant fish that can be bred rather easily in captivity and is recommended particularly for the aquarium of beginner breeders.
The Sunfish (Eupomotis gibbosus), also known as Sorel or Water Queen, is illustrated on the postage stamp with the face value of 3.00 RON. It was brought to Europe in the 19th century from the North America area; today, it can be found and lives in all fresh waters and lakes inRomania. It has an oval, flattened body, lovely coloured in shades of green, blue and brown.
The postage stamp with the face value of 3.10 RON illustrates the Paradise Fish (Macropodus opercularis) originating from the fresh waters and lakes from Asia, i.e., the areas ofChina,Korea andTaiwan. It has an oval body with big fins with very long edges.
It stands out among aquarium fishes due to its very beautiful colours of red and orange with blue vertical stripes and its elongated, elegant shape. It is also a disease-resistant fish and it easily adapts to the living conditions in aquariums.
On the postage stamp with the face value of 14.50 RON is illustrated the fish Firemouth Cichlid (Thorichthys meeki), a widely-spread species in still and shallow waters, in springs, swamps and even in underground waters from Central America. It has an elongated, tall, body flattened on sides and a big pointed head. The distinctive colour is light red in the chest area and under the jaw, its name coming also from this colour.
This species is easily bred in captivity and can be found very often among the species from aquariums, but wild fish are much more intensely and widely coloured.
We would like to thank the "Grigore Antipa" National Museum of Natural History for the documentary support granted in the accomplishment of this postage stamps issue.
Issue date: 2012-06-15