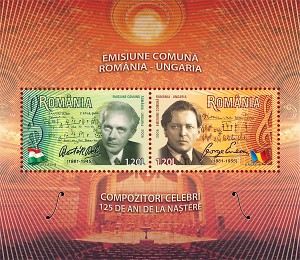 On the occasion of celebrating 60 years since the resumption of the diplomatic relations between Romania and Hungary, Romfilatelia introduces into circulation the Romania-Hungary joint stamp issue named Famous composers: George Enescu (1881-1955) and Béla Bartók (1881-1945).
Wishing to prove once more that, during our history, we have had many common things, especially in the cultural area, we need to argue that, before being a good neighbour, one must be a good friend as well.
Why Enescu and Bartók?
-they were both born in the same year (1881) and in the same geographic area;
-they both dedicated their entire life to music;
-they were inspired by the Romanian folklore;
-Bela Bartók accomplished the largest selection of Romanian carols;
-they had concerts on the greatest scenes of the world, many times together;
-they both were members of the Romanian Academy;
-each one of them died far away from their native country (Bartók in New       York, in 1945, and Enescu in Paris, in 1955).
Culture has always connected people.
And what could be more honorable than two nations feeling spiritually connected by two personalities who, through their common language of music, built a lasting cultural bridge between our peoples.
The two postage stamps exhibiting the two great composers, together with two of their own musical fragments, have the same face value of RON 1.20.
Issue date: 2006-06-08