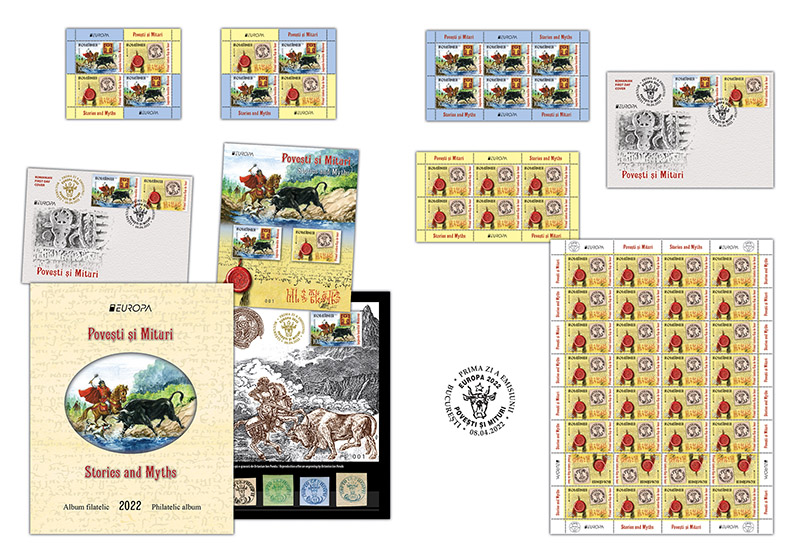 Coming to celebrate Europe Day, Romfilatelia invites you, as every year, to a dedicated theme, Stories and Myths, illustrated in the philatelic issue of the "Legend of the Moldavian Aurochs" and the first stamp "Head of Aurochs".
The philatelic issue  consisting of two stamps (with nominal values of 10 lei and 16 lei), two perforated blocks, two minisheets, a First Day Cover and a special philatelic album and will be introduce into circulation on Friday, April 8th, this year
 In "Legend of the Moldavian Bull" it is described the fight of the dismounting ruler Dragos Voda, with an ox, on the bank of a flowing water, in which, during the fight, the puppy named Molda drowned, to which he was very attached. According to the story, the water was named Moldova, later taken over by the land historically known as the Land of Moldova.
The flags of Bogdan I continued to bear the image of the aurochs head, taken over in time by the sculptors who adorned the royal churches with ornaments. Louis of Anjou recognized, after a few lost battles, the exit of Moldavia from under the Crown of Saint Stephen through the Royal Diploma (February 2nd, 1365).
Almost a century after the enthronement of Bogdan I, on the flags of Moldavia carried by the brave soldiers of Stephen the Great, shone from the fabric of golden threads, the coat of arms of the country having as its central image the Aurochs Head.
History added new documents, arriving in a time in the capital of Moldavia, Iasi in 1858. There and then, in July, the first postage stamps were printed, whose drawing reproduced, next to the post horn, the Bull Head, with a five-pointed star between the horns. The drawing, whose author had never seen an aurochs (this animal had disappeared in the seventeenth century), vaguely reproduces the true image of the wild aurochs, but accustomed to the coat of arms of their country, Moldavians did not respond critically to the lack of veracity of the image.
The philatelic issue will be available starting Friday, 08th of April in Romfilatelia's shops network in Bucharest, Bacau, Brasov, Cluj-Napoca, Iasi and Timisoara and online on https://romfilatelia.ro/store/.
For further information, please contact the Public Relation Office:
Tel: 021 / 336 93 92