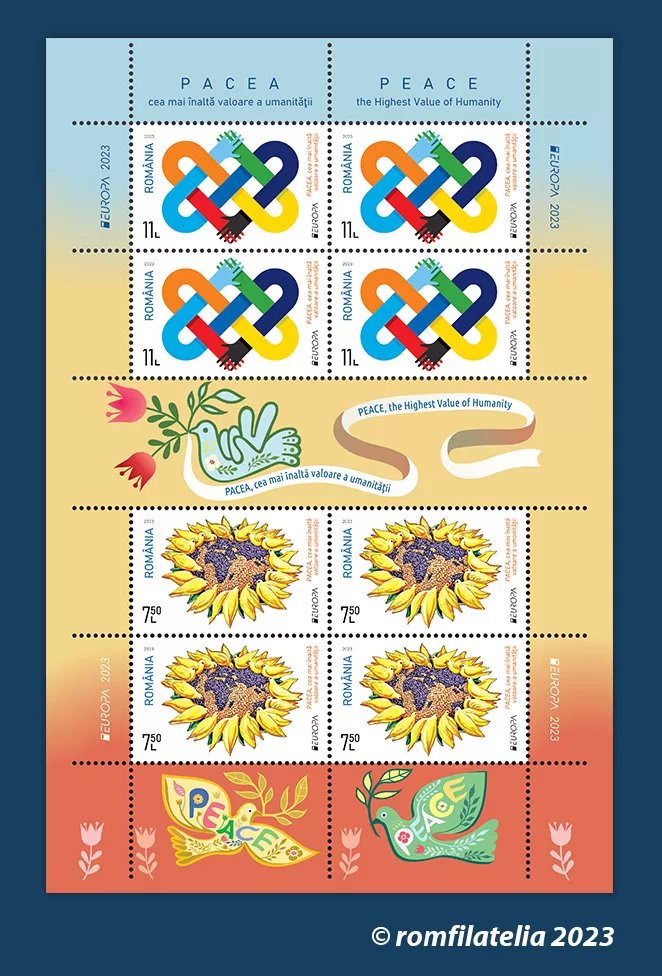 "Peace cannot reign among men if it does not rule,
first of all, in the soul of each one of us."
Saint Pope John Paul II
Romfilatelia introduces into circulation on Tuesday, 9 May (Europe Day), a symbol issue for humankind: Europa 2023. PEACE – The Highest Value of Humanity.
The theme chosen and established by PostEurop is a call for achieving peace, friendship between nations, harmony and tolerance. In today's international situation, where aggression and war are found in many areas of the world, peace, once established, represents the most precious gift of humankind.
The winning design concept of the competition organised by PostEurop belongs to a team of designers representing the Luxembourg Postal Administration: Linda Bos and Runa Egilsdottir. The message that the postage stamp graphic conveys is explained as follows:
"The world needs a new Peace symbol, uniting all nations. Cultural differences perchance a barrier for a state of Peace. If only mankind could respect each other's differences by understanding their significance and responding to them with consideration, the world would be a better place. This design shows a visual metaphor for a peacefully integrated, cooperative society in which people embrace each other's culture. It was inspired by the Celtic Love Knot symbol, with interlocking hearts. The colour palette illustrates all the nations in the world. By adding hands with intertwined fingers, it conveys the message of mutual respect."
The drawing reproduced on the stamp made by Romania belongs to the graphic artist Mihai Criste. The concept brings together the image of the sunflower, symbol of Flower Power, representing the peace movement of the 1960s as a protest against the Vietnam War, and the universal messenger and symbol of peace: the dove. The yellow petals of the sunflower are personified as doves, which in a directed action extract the seeds of the flower to create the image of an earth globe. The bright yellow of the doves' plumage symbolically emanates the light of the beneficent sun.