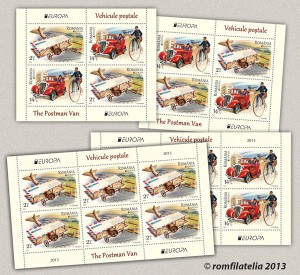 Established by PostEurop each year, the topic proposed under the theme Europa, for year 2013,is entitled The Postman Van.
On this occasion, Romfilatelia introduces into circulation a new postage stamps issue that has been, for many years, on the list of collection themes and in the top chart of philatelic preferences.
If at the beginning letters and messages were sent by riding messengers, once with the appearance of carts and carriages we may speak about the precursors of the means of postal transport, afterwards called postman van.
The development of the traction systems through the invention, first of all, of the steam engine and then of the petrol or gasoil engine, the electric engine and so on, led to the increase of movement speeds and implicitly, to the decrease of the time in which a letter arrived from sender to addressee.
The postman van, as a terrestrial, water or air mean of transport, was an important vector in the development of postal services all over the world.
Europa 2013 issue is made up of two stamps described by their designer Victor Telibasa himself:
"The first stamp represents the conquest of the aerial space by the human being trough means of the flying device, a major breakthrough of mankind where Romania had a significant contribution and its constant use for the transmission of news.
The letter bearing the PARAVION specification metaphorically forms the wings that will bear the much expected letter on the wings of the wind.
On the second stamp we may see that, where there is no place proper for landing, the machine will take over the courier service under speed conditions.
The former postman riding his velocipede spared from rains and broil will pass the baton to the post driver driving the tireless horse powers of the red cabriolet, a picturesque character on the streets of Bucharest at the beginning of the past century.
The red colour connects the past to the present and this colour is still today the official colour of the Romanian Post.
The first day cover presents another space conquered by the human being trough means of ships. The sea boat has been baptized Europa as our old continent".
Issue date: 2013-04-30