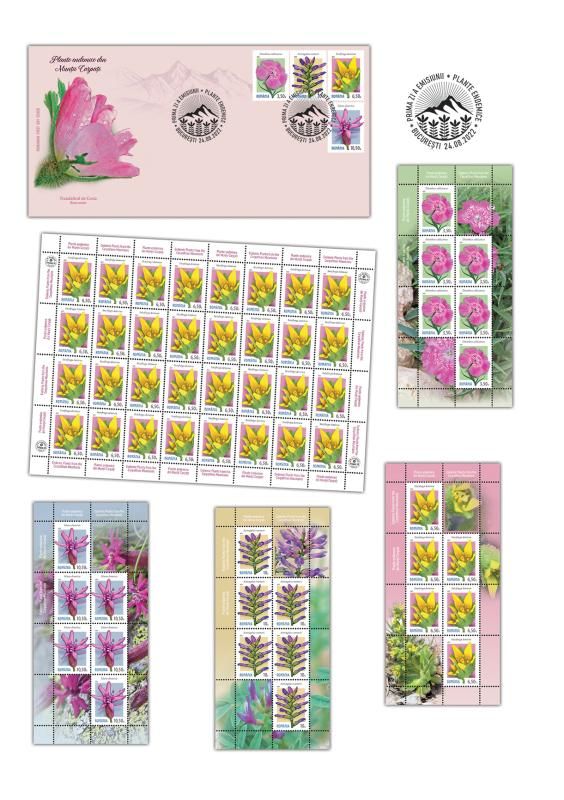 The endemic flora specific to the Carpathian mountains illustrated on Romanian stamps.
 Romfilatelia introduces into circulation on Wednesday, 24th of August, this year, a new postage stamps issue with the Flora theme, having the subject Endemic Plants from the Carpathian Mountains.
Within the issue comprised of four stamps, four minisheets and a First Day Cover, were chosen some of the most valuable biological heritage that Romania possesses, especially due to their rarity, all five species having a distribution limited only to limited mountain areas of the Eastern (Oriental) and Southern (Meridional) Carpathians or from the Apuseni Mountains, not existing anywhere else in the world.
Dianthus callizonus – Little Carnation of Piatra Craiului – depicted on the stamp with the face value of Lei 3.50, it belongs to the Caryophyllaceae family and represents a symbol of nature protection in Romania, being an emblematic perennial species for the Piatra Craiului National Park, the only mountainous massif in Romania (and in the world) where the plant is known.
Saxifraga demissa – Perennial species belonging to the Saxifragaceae family, is illustrated on the stamp with the face value of Lei 6.50. Is found only in the subalpine and alpine floor of the Bârsa mountains (Piatra Mare, Postăvaru, Piatra Craiului), in the Bucegi Mountains and in the Ciucaş Mountains.
 Astragalus roemeri – Römer's Cossacks – depicted on the stamp with the face value of Lei 10, it is a perennial herbaceous species belonging to the Fabaceae family. It is an endemic species for Romania, being distributed in the restricted mountain areas of the Eastern Carpathians (Bistriței, Ceahlău and Hășmaș Mountains) and Apuseni Mountains (Scărița-Belioara Nature Reserve of the Gilău-Muntele Mare Massif).
Silene dinarica – represented on the stampt with the face value of Lei 10.50, it is a perennial herbaceous species of the Caryophyllaceae family, cespitous, forming short bushes up to 5-6 cm high with creeping flowery stalks and often solitary flowers on each branch. the species is endemic to the Făgăraș Mountains (the central part of the Southern Carpathians), never found anywhere else in the world.
Rosa coziae – Cozia Rose – illustrated on the First Day Cover of the issue, it is a woody perennial species belonging to the Rosaceae family and a symbol of the Cozia National Park.
Romfilatelia thanks to PhD. Bogdan-Iuliu Hurdu, within the Institute of Biological Research in Cluj-Napoca, for the documentary and photographic support granted for the development of this postage stamps issue.
The philatelic issue will be available starting Wednesday, 24th of August, in Romfilatelia's shops network in Bucharest, Bacau, Brasov, Cluj-Napoca, Iasi and Timisoara and online on https://romfilatelia.ro/store/.
 For further information, please contact the Public Relation Office:
Tel: 021 / 336 93 92