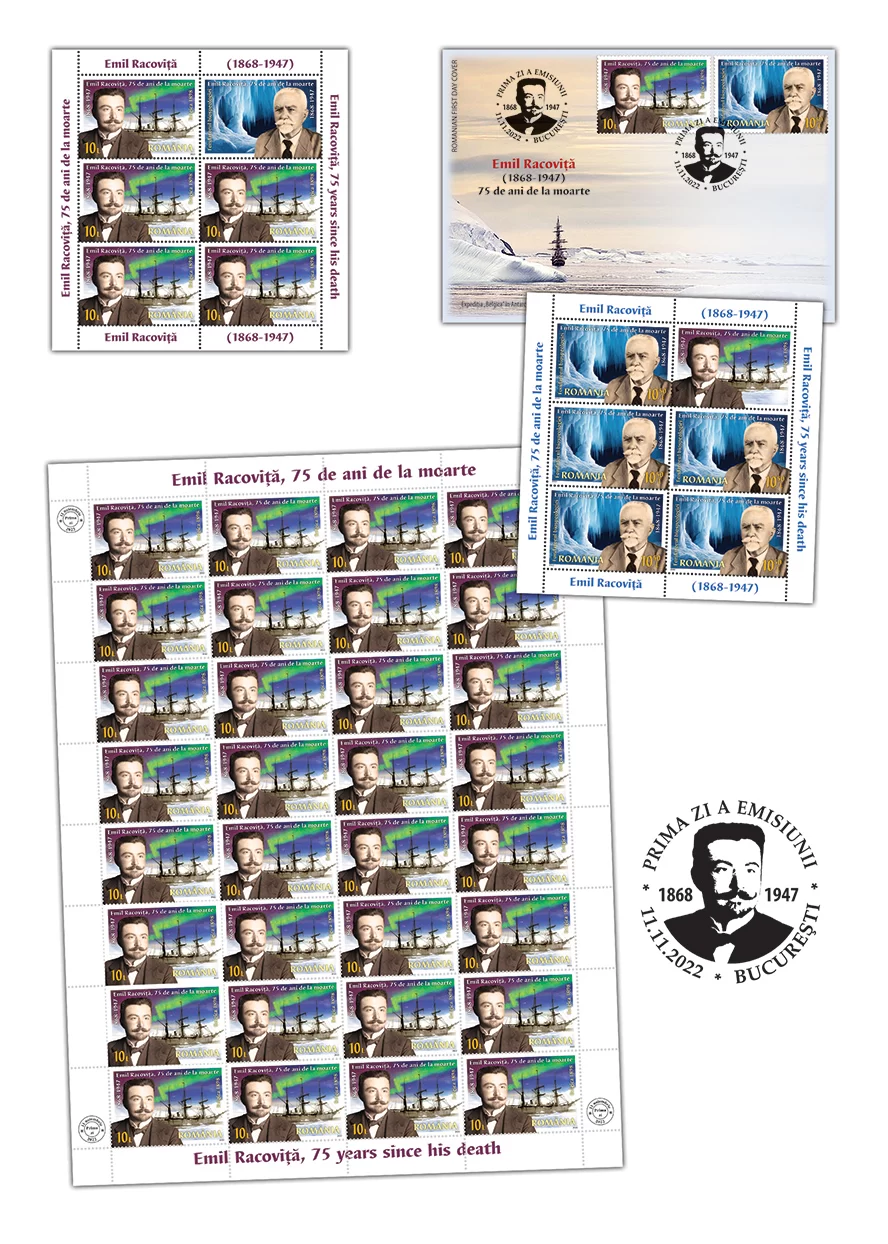 On the 75th anniversary of the death of the great Romanian scientist of worldwide recognition, Emil Racoviță, the founder of biospeleology, Romfilatelia dedicates to him a postage stamps issue that will be introduced into circulation on Friday, November 11 this year.  
The issue entitled Emil Racoviță, 75 years since his death, consists of two stamps and a First Day Cover.
The Romanian speleologist and biologist Emil Racoviță was born in Iaşi, on the 15th of November 1868. His passion for the natural sciences was aroused by the professor Grigore Cobãlcescu, during he studied at the "United Institutes" high school of Iaşi. Fulfilling at first his father's wish, Emil Racoviță followed the Law Faculty of Paris, which he gave up in favour of the vocation he was destined for. Thus, the young Racoviță graduated the Sciences Faculty of Sorbonne, having the famous scientist Henri de Lacaze-Duthiers as Zoology professor.
Emil Racoviță was also President of the Romanian Academy (1926-1929), and later, between 1929 and 1930, he was appointed Rector of the Cluj University, where he taught the first course of general speleology of Romania.
On the stamp of the issue with the face value of Lei 10, the portrait of the scientist at the age of adulthood is illustrated in the foreground, and on the background the ship of the Belgica Expedition, anchored between the shores of Antarctica.
On the stamp with the value of Lei 10.50, the portrait of the scientist Emil Racoviță at the age of senescence is reproduced, and in the background a image specific to caves.
Romfilatelia thanks the Romanian Academy Library, the "Grigore Antipa" National Museum of Natural History and the "Emil Racoviță" Institute of Speleology in Bucharest, for the documentary and photographic support granted for the development of this postage stamps issue.
The philatelic issue will be available starting Friday, 11st of November, in Romfilatelia's shops network in Bucharest, Bacau, Brasov, Cluj-Napoca, Iasi and Timisoara and online on https://romfilatelia.ro/store/.
For further information, please contact the Public Relation Office:
Tel: 021 / 336 93 92