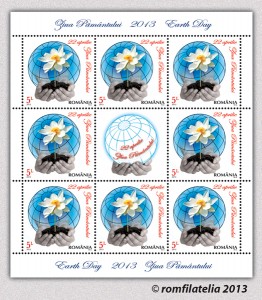 In 2009, The United Nations Organization instituted the date of 22 April as the official holiday of the planet – International Mother Earth Day – a day of involvement of all the people to protect the environment.
On this occasion, Romfilatelia introduces into circulation a postage stamps issue dedicated to this event, Earth Day 2013.
On April 22, 1970, the American senator Gaylord Nelson organized the first major ecological manifestation in history.
By the mediatization of the world climate issues, the action of April 22, 1970 fathered the "Earth Day" Organization that has today more than 175 branches in as many countries, their role being to make the mankind aware of the environmental issues and the effects of pollution.
The actions differ from one country to another, but there is everywhere an active communication with the governmental officials, the business environment and the educational institutions, all actions having the same denominator, namely the preservation of the environment.
Earth Day has become the joint expression of everybody's wish to build a stable society for a cleaner and greener future.
In Romania, one of the most important campaigns taking place this year, dedicated to the Earth Day, is the street national campaign organized by the pupils of the secondary schools under the motto "Benefits of using the green technologies".
To this, we add the organization, by the local agencies for environmental protection from each county, of contests and debates on ecology themes, cleaning actions, exhibitions of objects made of recycling materials, as well as photographic exhibition dedicated to the natural beauties of the Earth.
We thank the Ministry for Environment and Climate Change for the support granted in the accomplishment of this postage stamps issue.
Issue date: 2013-04-22