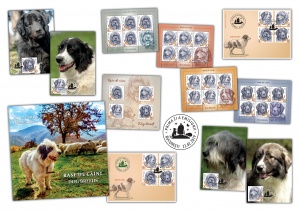 The dog is the most popular pet in the world and it is nicknamed man's best friend. It is one of the smartest animals and its abilities continue to surprise us.
Dogs are the animals most attached to humans and in most cases they are able to sacrifice their lives to defend their master if he is in danger.
Over time, dogs were part of many notable events. Rescue operations, space missions, proof of courage, have protagonists the dogs.
Romfilatelia dedicates to the most beloved animals, human's best friends, the "Dog breeds" postage stamps issue, this going in for the competition of the most popular philatelic themes.
The Romanian Mioritic Shepherd Dog, represented on the stamp with the face value of Lei 3, was selected from a natural breed existing in the Carpathian Mountains, the main reason being the utility. Due to its large size, a well-developed body and its vigorous and spectacular appearance, this breed is highly appreciated in Romania.
The Romanian Carpathian Shepherd Dog, illustrated on the stamp with the face value of Lei 5, is an endemic breed present in the Carpatho-Danubian space. A flock dog, used for centuries by the Romanian shepherds in the Carpathian Mountains to guard sheep flocks, the Carpathian Shepherd is distinguished by its instinctive and unconditional attachment to its master.
On the stamp with the face value of Lei 8.50 is presented the Romanian Bucovina Shepherd Dog, a natural breed originating in the area of the Carpathians, north-eastern Romania, in Bukovina region. The breed has received special attention in terms of selection and improvement, which have led to the existence of the actual type.
The Romanian Raven Shepherd Dog, represented on the stamp with the face value of Lei 12, is a natural breed that has formed in the area of the Southern Carpathians and the sub-Carpathian regions (Dambovita, Arges, Prahova, and Brasov Counties). Although its area of spreading is relatively limited, due to its qualities, the existing population is numerous.
The postage stamp issue Dog Breeds will be available on Friday, February 22th 2019, in Romfilatelia's shops network in Bucharest, Bacau, Brasov, Cluj-Napoca, Iasi and Timisoara and online on https://romfilatelia.ro/store/. The postage stamp issue is completed by one "first day" cover, as page composition in sheet of 28 stamps and minisheet of 5 stamps, 1 vignette and block of 4 non-perforation stamps of issue with perforated graphic detail.
The philatelic album is created into a limited edition of 238 pieces and is equipped with the block of 4 imperforated postage stamps of the issue with perforated graphic detail, as well the First Day Cover with "first day" postmark clearly imprinted, with foiling, both products being numbered from 001 to 238.
Romfilatelia thanks the Romanian Kennel Club and "Grigore Antipa" National Museum of Natural History from Bucharest, for the documentary and photographic support given to the achievement of this postage stamp issue.
For further information, please contact the Public Relation Office:
Tel: 021 / 337 24 42