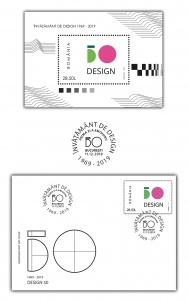 Romfilatelia introduces into circulation on Wednesday, December 11th, current year, the postage stamps issue entitled Design 50, to mark the jubilee of establishing the higher education design system in Romania.
"Design has become the most powerful tool with which man shapes his tools and environments (and, by extension, society and himself)." Victor Papanek – "Design for real world"
In 1969, "Nicolae Grigorescu" Fine Arts Institute from Bucharest INDUSTRIAL FORMS section, or AESTHETICS OF INDUSTRIAL FORMS, was set up, which prepared specialists in the field of design, in support of an economic strategy, which involved creating and implementing on the market, domestic and international, a new vision – at that time: the original integrated product. This became imperative for the transition from "licensed production", to that of own, new, original and innovative products.
The first teachers who founded the structure and content of this new type of education, training and vocational education were: arch. Paul Bortnovski and artists Ion Bitzan and Vladimir Setran, seconded by specialists in the fields of ergonomics, technology and technology, marketing and market strategies.
Since then, 46 generations of designers in the field of design have been trained, many of whom have become elite professionals, recognized both in the Romanian and international environment, through the careers of exceptional performance, through the prizes obtained at prestigious design competitions or innovation, or by institutional recognition of the special merits in developing new paradigm models, through DESIGN.
Outside the elites, the Romanian design was noted for innovation, creativity and vision of perspective, in the level of professional performances by making competitive products on globalized markets.
The concept of the perforated souvenir sheet, with the face value of Lei 28.50, is based on the highlighting of the primary geometric shapes that make up the DESIGN 50 logo. It is a vision that integrates artistic elements used in all branches of design. The colours used express the joy occasioned by the anniversary of 50 years of Romanian design education. The graphic elements that fit the stamp are specific to basic design themes.
The postage stamps issue "Design 50" will be available on Wednesday, December 11th  2019, in Romfilatelia's shops network in Bucharest, Bacau, Brasov, Cluj-Napoca, Iasi and Timisoara and online on https://romfilatelia.ro/store/.
For further information, please contact the Public Relation Office:
Tel: 021 / 336 93 92