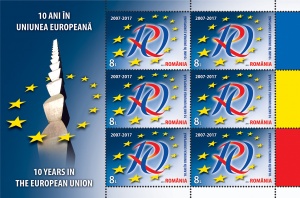 A united, peaceful and prosperous Europe was the ideal of the generations who witnessed the two World Wars. This vision was shared by also by some of the European leaders, who, aware of the harsh lessons of history, have created alliances, initially only for economic and political grounds.
For that reason it was formed the European Coal and Steel Community by the joining of the six founding countries: Belgium, France, Germany, Italy, Luxembourg and the Netherlands.
The first full customs union, originally referred to as the European Economic Community was created by the Treaty of Rome in 1957 and implemented on January 1st, 1958. Later on it was transformed into the European Community, which is now, the "first pillar" of European Union.
Therefore, the European Union is the result of a cooperative process that began in 1951 and developed over the next 50 years, through the next five rounds of expansion and comprises now 28 member states.
Romania joined the great family of the European Union 10 years ago, on January 1st 2007, when it became a Member State of the European Union, with both rights and obligations.
Since it is a part of the European Union, our country was engaged in several reform processes, by society's modernization and the economic development, all with a positive impact on every citizen's quality of life. The increase in trade with European partners, the boosting of foreign investment and the stimulation of entrepreneurship in a highly competitive environment were all visible for Romania, as they were for each new member state.
Another example of a tangible benefit, impacting the quality of life of each citizen, derives from the principle of free movement of goods, services, capital and persons in the single market.
Committed to its mission of bringing to public's attention through philately, economic and social current important events, Romfilatelia dedicates to this significant anniversary the philatelic issue entitled: "10 years Romania in the European Union".
This issue comprise of one stamp, with face value of lei 8, visually representing both symbolic and chromatic, a well-balanced combination of elements of national identity and insignia of the European Union.
The issue is completed by a first day cover, and as page composition were used the sheet of 32 stamps and minisheet of 6 stamps with illustrated border Romfilatelia thanks the Ministry of Foreign Affairs and logo designer Mugur Mihai for their documentary support granted in the creation of this postage stamp issue.
For further information, please contact the Public Relation Office:
Tel: 021 / 337 24 42
anamaria.anton@romfilatelia.ro