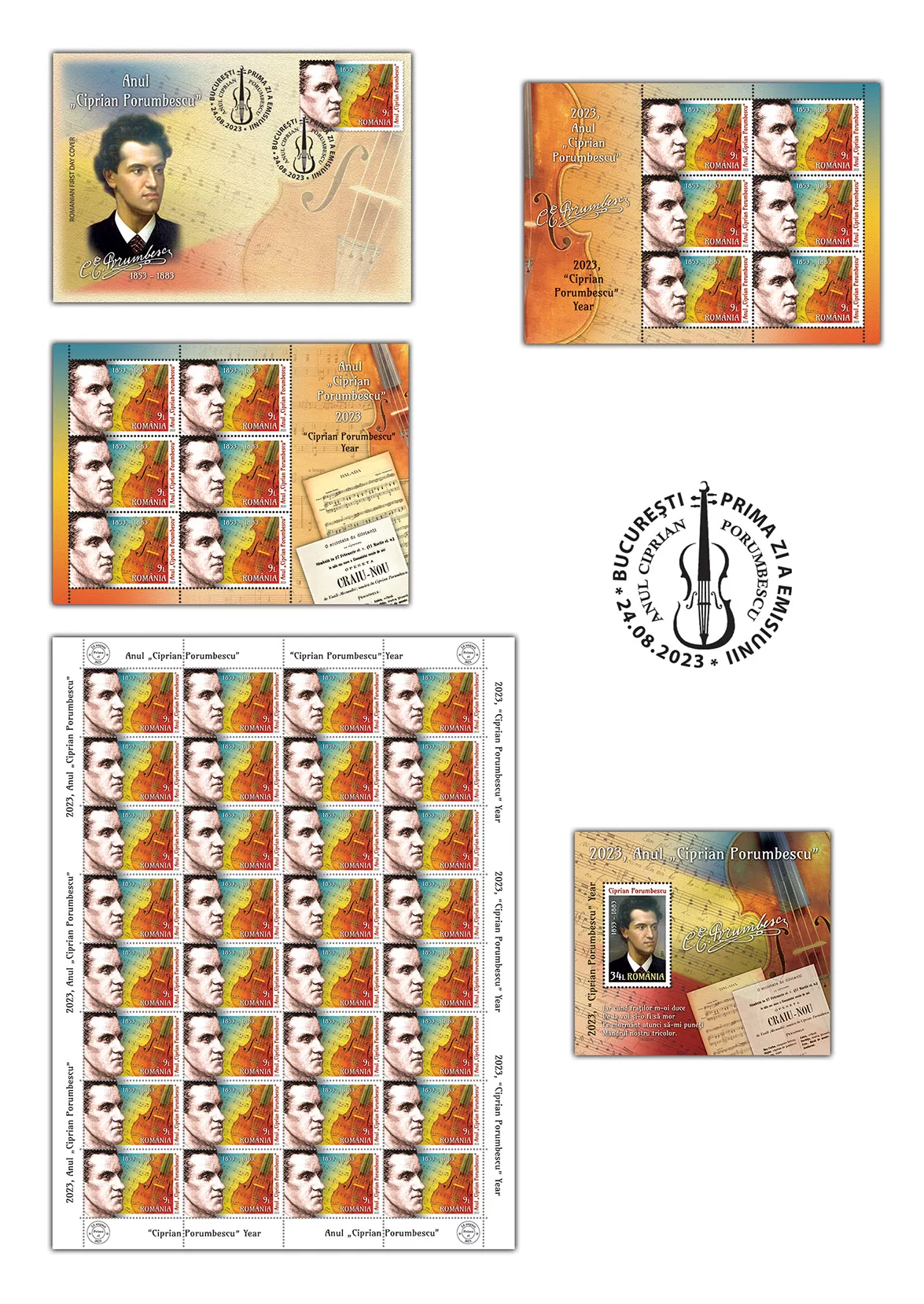 This year, we celebrate 170 years since the birth of Ciprian Porumbescu and 140 years since his death. As a sign of special respect for the great composer and performer, the year 2023 has been established as "Ciprian Porumbescu" Year.
An issue with the same title, consisting of 1 stamp with the face value of Lei 9, a perforated souvenir sheet having the stamp with the face value of Lei 34 and a First Day Cover, will be introduced into circulation by Romfilatelia on Thursday, August 24, this year.
 He was born on October 14th, 1853, in Șipotele Sucevei. He began studying music in Suceava and Chernivtsi, continuing over the years to perfect his mastery of the bow in Vienna.
At the celebration of 400 years since the building of Putna Monastery, in 1871, he was among the participants in the festivities, together with Mihai Eminescu, Ioan Slavici, A. D. Xenopol, Nicolae Teclu and others, praised by the entire audience for his violin playing. This is the moment when Ciprian Porumbescu exclaimed: "Now I can die because I have sung to the whole of Dacia".
 Ciprian Porumbescu was one of the most famous composers of his time. Among his most famous works are "Ballade for violin and orchestra" op. 29, the operetta "Crai Nou" ("New Moon"), the patriotic song "Pe-al nostru steag e scris Unire" ("On our flag Union is written", the current anthem of Albania), "Trei culori" ("Three colours", former anthem of Romania). Among his more than two hundred compositions are Serenadă (Serenade), La malurile Prutului (On the banks of the Prut), Altarul Mănăstirii Putna (Altar of Putna Monastery), Inimă de român (Heart of a Romanian), Odă ostașilor români (Ode to the Romanian soldiers).
The last wish, written in the last stanza of the "Song of the Tricolour", was fulfilled, on the cross of his grave there are the colours of the Romanian flag and the lines: "And when, brothers, I will go / From you, and I will die / On my grave then put / Our proud tricolour".
As a gesture of great appreciation, on July 30, this year, on the stage of the Musikverein in Vienna, the famous "Golden Hall" hosted the presence of the Bucharest National Opera with the operetta "New Moon", composed by the great Romanian musician.
Romfilatelia thanks the Bukovina's National Museum and the National Archives of Romania – Suceava, for their collaboration within this issue of postage stamps.
The philatelic issue will be available starting with Thursday, August 24th, 2023, in Romfilatelia's shops network in Bucharest, Bacău, Brașov, Cluj-Napoca, Iași and Timișoara and online on https://romfilatelia.ro/store/. 
For further information, please contact the Public Relations Office:
Tel: 021 / 336 93 92