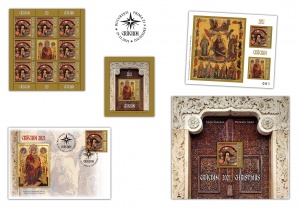 On the occasion of the Holy Celebration of Christmas, Romfilatelia introduces intro circulation on Friday, November 19th, the postage stamps issue Christmas 2021.
The issue consists of a postage stamp with the face value of Lei 2.60, a perforated souvenir sheet, having the stamp with the face value of Lei 31.50, a First Day Cover and collection philatelic bloc inserted in a special philatelic folder.
Christmas marks a great celebration of Christianity. On this day is celebrated the birth of the Savior Jesus Christ and the fulfillment of the promises that God, in the garden of heaven, initially, then through the prophets of the Old Testament, made to mankind – to send the Messiah, the Anointed One, who would save the world from the bondage of sin and death.
The philatelic issue dedicated to Christmas has as a source of images the reproduction of some icons from the patrimony of Bucur Ciobanul Church in Bucharest: The Birth of Jesus Christ and the Virgin Mary, which belonged to the church iconostasis painted in 1704 and 1705 by an iconographer named Ioan.
The collection block, inserted in the philatelic folder, adds to the product design the second icon of the Virgin Mary dating from 1704 and donated to the church in 1938, on the occasion of the reopening and re-sanctification of the church on the feast of the celebration day of the Birth of St. John the Baptist.
Romfilatelia thanks His Beatitude Father Daniel, the Patriarch of the Romanian Orthodox Church, the Archdiocese of Bucharest, the Radu Voda Monastery and the Bucur "Ciobanul Church" in Bucharest, for the support granted in the accomplishment of this postage stamps issue.
The postage stamps issue "Christmas 2021" will be available on Friday, 19th of November 2021, in Romfilatelia's shops network in Bucharest, Bacau, Brasov, Cluj-Napoca, Iasi and Timisoara and online on https://romfilatelia.ro/store/.
For further information, please contact the Public Relation Office:
Tel: 021 / 336 93 92