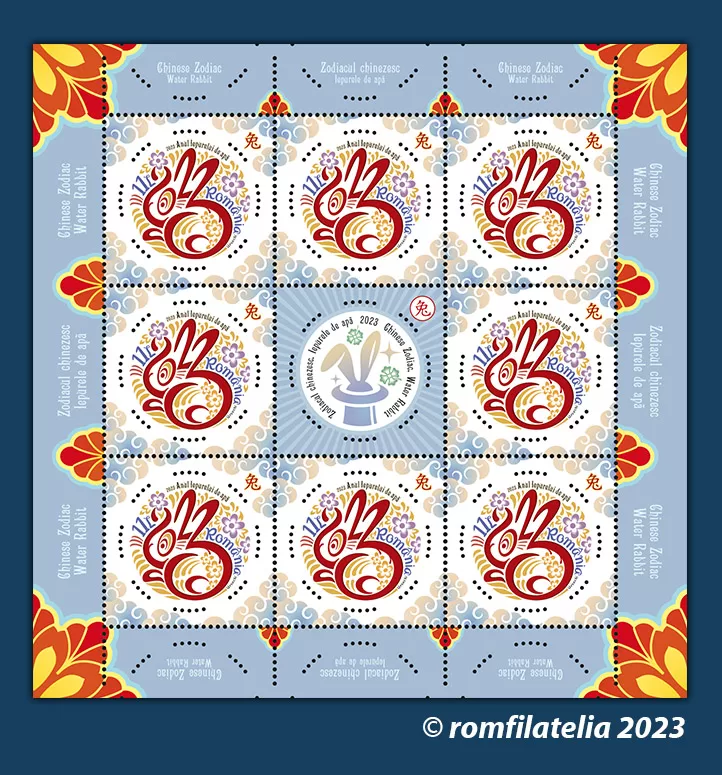 Romfilatelia adds to the series of philatelic theme dedicated to the Chinese Zodiac, a new postage stamps issue on the subject of the zodiac sign of the year 2023, the Water Rabbit.
The issue entitled Chinese Zodiac. Water Rabbit, consisting of a stamp, a miniature sheet, a First Day Cover, will enter into circulation on Friday, January 20th, 2023. The issue is also complemented by a maximum postcard for maximaphily enthusiasts.
The graphics of the stamp of the issue depicts the symbol of the Rabbit zodiac sign, with the design bringing together the digits of the year 2023 in an elaborate graphics.
The First Day Cover features a modern illustration of a personified rabbit, as the Chinese zodiac signs are represented by animals but refer to human qualities and behaviour. The image is a combination of a European character revealed by his clothes and displayed in a youthful manner on a scooter, commonly found in the cityscape. Chinese mythology holds that the rabbit is proud of the speed with which it moves.
2023, the Year of the Water Rabbit begins on January 22th, 2023 (Chinese New Year) and ends on February 9th, 2024.
Rabbit is the fourth sign of the zodiac. Legend has it that the Jade Emperor decided to assign 12 animals to the zodiac. Their order was determined by how quickly they arrived at the palace. The Rat, the Ox and the Tiger were the first three to arrive, and the Rabbit followed soon after.
The Rabbit sign is a symbol of longevity, peace and prosperity in Chinese culture, and 2023 is considered a year of hope. Those born in the Year of the Rabbit are said to be vigilant, witty, ingenious.
Therefore, we leave behind the tumultuous year of the Tiger and enter a gentler period. The preceding and following years of the Rabbit are 1927, 1939, 1951, 1963, 1975, 1987, 1999, 2011, 2023 and 2035. Unlike the individualistic Western astrology, the Chinese horoscope addresses the collectivity.